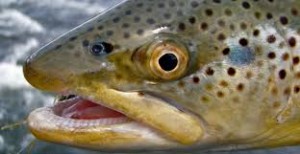 I've noticed a direct correlation with people who talk incessantly and people with short necks. Maybe the neck shortens because the muscles that constantly work the jaw pull tight from over use? This also seems to have an effect on the audio and visual ability to notice that nobody else in the room has had a chance to get a word in edgewise. The expression I see on most incessant talkers is closely akin to that of a trout.
The most recent incessant talker I came across was the butcher standing behind my regular halal butcher yesterday. My butcher is a kind man who calls me sister and gives me free samosas. My order usually takes half an hour because he grinds the meat freshly and cuts the parts with a saw in front of me. It's just the right amount of morbid to remind me I'm lucky to eat and not be eaten.
My butcher was trying to work and hear my order and do all things with a smile on his kind face. Mr Trout behind him did not shut up the entire time, nor did he do anything to help, nor did he even acknowledge me, the only customer in the store. Once in a while my butcher would murmur a gentle agreement or protestation but fish face was on a roll. At first I thought Mr Trout was upset about something, as the volume at which he was speaking certainly indicated so. but I slowly came to realize, though his speech was in a different language, he did keep changing subjects. Loud was just what he chose to be. And when the saw got going, Mr Trout shouted louder and louder. I actually had to put my fingers in my ears.
Behind my patient butcher blinked the Islamic prayer times and I thought to myself, "I'd need to pray five times a day to keep myself from sticking a knife into that yapper."
Why was he so patient? Was the other man the boss? Was the other man his brother? He was older. Maybe he was going through some very hard time I wasn't aware of. Something tells me though, his condition is permanent and undiagnosed and my butcher just happens to have the patience of Job.