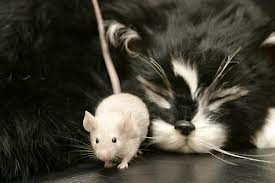 We have tried every trick in the book to oust the mice and it just isn't happening. I see at least one rodent a day and it's never ever a dead one. Pest control have been in here twice, a carpenter covered holes around pipes, I've put in a number of delicacies in a number of rotating traps, we have sticky boxes that the mice wisely avoid and poison that is also avoided. My walls are supported, in part, by steel wool…and still…we are over run.
Nora and I have picked out a Craigslist kitten. It's a black and white female Nora has named Licorice. Brilliant name, Nora, but as for the rest: note my absence of enthusiasm. We pick up this kitten tomorrow.  It's five months old, comes with accoutrement and shots and has reasonably short hair.
I feel like that husband who doesn't want kids but has to because it was part of the bargain when he married that woman he fell in love with. And yes, like babies, I have heard that once I see that little ball of cuteness and call it my own, everything changes and I'm going to be happy I did this. But then I think of that one Dad who confessed to me, "I love my kids, but if I had to do it all over again, I wouldn't."
Right now all I can think of is sweeping cat fur, picking up broken Christmas bulbs, finding scratches on my leather sofa, stinky cat food, litter box in the closet, pain in the ass when I go out of town. And, being a realist, I also expect this to be absolutely no good whatsoever as a mouse deterrent.
Now all you cat people out there, you are getting cross with me right now. You are all choked up, "This poor little kitten needs a loving good "forever" home, Lucia, how dare you get a cat purely for hygiene!"
Well. Don't worry. It will be a forever home. I think that's why I am not that excited right now. This is not a whim. I know exactly what I'm getting myself into. At least I don't have to change diapers and breast feed. (Yeah, I didn't like breast feeding either. Now I've really lost you. You thought you knew me, didn't you?)
And I swear to God, as I type this, a mouse is staring at me from my kitchen floor. Nature. There's no use, is there? It always wins.