For those of you more experienced with melon pain, tell me, is this a migraine?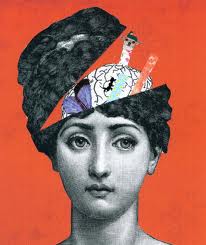 I am at my lovely friend's house. Jovanni, Leanna and I are reading over tidbits of scripts we're working on. Leanna goes over hers, I am engaged, happy, dull headache that's been bothering me all day. It increases to a PMS level when we read my work, I am irritable and dissatisfied with my rewrite. Why? Why am I so grumpy? I apologize. WOW. My head bursts into a mushroom of pain. I don't say anything but they can see it on my face. I admit I have a wicked sentence stopping headache, unlike I've ever had before. Leanna gets me a cloth, Jovanni opens the balcony door for some air. It abates. Strange. "I have given up coffee again" I say. "I cleaned the oven…the fumes" That must be it.
Jovanni hands around his new play that I have been waiting to read in anticipation: it's a great idea. I even get to play an Englishman detective, how fabulous is that? I am reading and my headache starts thumping, intense pain comes marching in, so fast so fast so fast I can't really remember the rest. Fuzzy page can't read, gonna throw up, gotta get home, intense pain, I can hear someone whimpering…oh that's me. Jovanni is driving my car, I am holding a plastic bag, spectacular barfing barfing barfing into a straining Chinese take out bag, I am concerned about the Mini's interior…Jovanni jokes,
"Don't worry, my writing has that affect on a few people…"
I laugh and call him "Bastard" because it hurts so much to laugh. Leanna asks me if I want to go to the hospital, "HOME" I bark between expulsions. Once in a while I open my eyes, it's the MFing commute from Richmond to Vancouver over the Knight street bridge! It's my nightmare for the past two years being relived. Oh get me home get me home dear God what an evening for my poor friends.
Apartment, door, don't step on cat, stunned young babysitter in her hip skinny jeans being paid a twenty, coat off, my bed is stripped for late night laundry CRAP who cares, DOWN on the mattress and naked pillows.
Vague recollection of Leanna kissing my forehead, pushing my hair back with her finger tips, calling me darling.
I wake up two hours later. WTF? Nora is soundly sleeping. Leanna's toothbrush is beside the bathroom sink. She's huddled in the guest room. The cat knocks my favourite pen under the stove again. I'm back to the dull headache. It's all like some strange dream. And here I am writing to you. I mean…I needed a story but honestly…
Leanna wakes up, bleary, comes and sits beside me at the computer here and asks me how I am. I see that utter helplessness has brought us closer together. I would have rather a more elegant helplessness. At the very least, if it had to be barf, I would have rather it been holding back my hair because of too many martinis at a fabulous bar. But I suppose this was cheaper. And I have given up alcohol.
Though I still feel sick I have this great warmth inside of me. Thankful for the bath I just had. Thankful for my health. Thankful for clean sheets. Thankful for great friends who are there in a time of need.