My Mom is helping out with her church's vacation Bible school and has made about a hundred and twenty rice crispy squares with little cinnamon crucifix's on them. Like anything my Mom does, they are aesthetically perfect. At first I thought, "awww that's so adorable!" And then I thought, "Why is that adorable?! That's a man dying from torture on those rice crispy squares, that's snap crackle pop Jesus!" And it got a bit creepy for about five seconds. And then I went back to being pleased again. Why? Hard to explain. It's sort of like sugar skulls to me. Why should children be sheltered? Life doesn't shelter them from death. And of course that cross is a symbol for many things, not just the tree they hung Him on.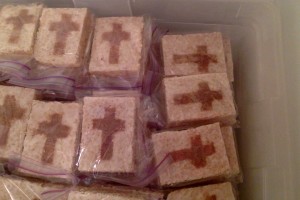 It was a beautiful drive today through the mountains into Inveremere. And bloody hot. The air conditioning isn't working in the house so Stan is wearing bright blue plaid shorts, setting up fans, and Mom keeps handing out little blue glasses filled with water. The three little girls have bangs plastered with sweat against their foreheads. I pop Nora's little pink body into a cool shower to help her sleep. They giggle while snuggled up in cool sheets, all three in a queen sized bed. My nieces are absolutely adorable. They're very petite with strawberry red hair so thick and long they can sit on it. And entertainers both of them. Hunter tells the marvellous stories and Scarlette is the comic relief. Nora floats around them, the leggy dancing queen. "You're so tall you look – ten – no – you look TWELVE!" Says Hunter, astonished. I have to agree.
I am so glad for this friendship with family. Especially because Nora doesn't have siblings. Cousins were very important to me growing up. They still are. I'm glad she has four little beauties.
Tomorrow i will hustle them out the door with their Jesus squares and sunscreen.  Everything warm. Everything cozy. I walk out onto the huge deck overlooking the mountains, wearing my pyjamas. I don't care who sees. The sunset is gorgeous and cooling. The big horn rams are roaming down the street. I hear a buzzing buzzing – is that some gargantuan dragon fly? No. It's a humming bird six feet from me.
How did I get here? All squared away and peaceful and happy? Something to do with the smell of cinnamon.