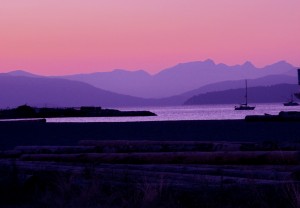 The sky is all soft and baby blushy pink as the sun sets over Jericho, the gentle beach. The folk fest tents are tabernacle set, waiting for the magic to descend on the weekend. The Born Ruffians. Joan Baez. I walk along the trail with a friend who is currently deciding between a life in France, the USA or Canada. He touches my shoulder to see the silver cityscape twinkling. Delicate tinsel Vancouver town. His first choice. And my choice of twenty-five years.
He asks me how I deal with the price of housing.
"It creates simplicity by necessity." I say, staring at the city from across English bay. It's looking all Jesus walking on water. Be of good cheer, it is I. Be not afraid.
"I have to live with less of the material things. So what." I smile. "Less to clean."
I'm a freelance artist single Mom and I still manage to own property off Commercial Drive, "My favorite neighborhood. Little Italy."
He tells me he's not much of a city guy but he could live here. If urbanity starts to press in on him, he can always hike in the forest on his lunch break or jump in the ocean after work. It's all within a cycle's reach. All it takes is the decision to live beautifully.
The sky has darkened to a midnight blue and pedal bikes fly past us under the moon. Whiz. Whiz. Whiz. Lights on helmets, illuminating grins. Giant fireflies.