Thanksgiving is coming up and I made a few test pies today with this recipe that I made up last year. Geesh…it's good. I feel I should share it again with you…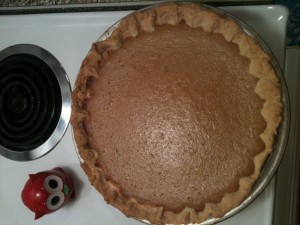 Lucia's Pumpkin Pie with Maple Whip Cream
(warning: this pie may cause spontaneous marriage proposals. Antony Holland was the first to ask for my hand after having a piece of this pie. I also wish to credit Kathryn Aberle with the pie crust tips)
Pumpkin
I roast my own pumpkin. They're cheap and yummy and you can use the excess to make soup. Get yourself a pumpkin, clean it out and chop into chunks like you might a squash, leaving the skin on. Lightly spritz a cookie sheet with oil and bake chunks at 350 degrees for about an hour or until the pumpkin is cooked all the way through. Peel skin off and place soft chunks in a cheese cloth and squeeze out some of the water, depending on how watery the pumpkin is. Puree pumpkin in your food processor until smooth. Or…just use the freaking canned stuff!
Pie Crust
I always make my crust in a food processor. This will make two pie crusts, so double the filling if you like.
I cup all purpose white flour
1 1/4 cups pastry flour
1 tsp salt
3/4 cup Crisco/unsalted butter, I do half and half
6 tbsp ice water
Give the flours and salt a good whirl in the processor. Cut the cold shortening up into small cubes and toss it in and give it another whirl, just enough to resemble pea meal. (You know, because we all know what pea meal looks like.) Add the ice water and give it another whirl just enough for it to start to stick together into one lump. Don't over whirl! Dump contents of pie crust onto a sheet of parchment paper. Wrap the parchment around the dough and its crumbly bits and squeeze into a ball. Stick this ball into the fridge for half an hour to cool.
Pie Filling
1 3/4 cups of your pumpkin puree
1 small can of sweetened condensed milk 8oz (I know, I know, terrible)
2/3 cup sour cream
2 large eggs
1 tsp cinnamon
1 tsp ground ginger
1/2 tsp ground nutmeg
1/2 tsp salt
1/3 cup real maple syrup
Mix this thoroughly in your food processor.
Assembly
Preheat oven to 425 degrees.
Pull the parchment away from the chilled dough ball, lift up dough ball and flour the parchment. Split the dough in half and roll out onto the floured parchment. Then lift the parchment up and flip dough into the pie plate. Form and prick the bottom and put into the oven without the filling for 15 minutes to brown up.
Remove pie crust from oven and reduce temperature to 350 degrees. When oven has reached the right temperature, pour the pie filling into the shell and bake for another 35-40 minutes.
Maple Whip Cream
1 cup whipping cream
1 tbsp icing sugar
1 tbsp real maple syrup
Use cream directly from the fridge: the colder the better. Whip the cream alone in the food processor. When soft peaks form, add the sugar and maple syrup and whirl again until firmer peaks form. Careful not to over beat. The whip won't be as firm as usual whip cream, but it will be so delicious!