"The first time I introduced Gio to your Nonna Lucia…" says Louisa in her kitchen, handing out cognac with the pumpkin pie I brought, "Gio was wearing these high heeled disco shoes, what do you call them-" her daughter, Nita, interjects, "Platform shoes, Ma, everyone wore platform shoes in the seventies." Louisa continues, Giovanni grins sheepishly in the background, "He was wearing the platform shoes I made him wear because I didn't want him shorter than me when we went dancing. Anyway, typical Italian family, everyone is downstairs. So, we go through the living room and head down the stairs and Giovanni slips and voopa right down to the bottom! Boomp boomp boomp. Your Nonno looks up and says (super loud) "GIO you okay?" "Yeah, I'm okay". Hm. Then Louisa shrugs her signature shrug that says, "What can you do? This is the crazy life I was born into." She exchanges a tender brusque look with her husband who chuckles.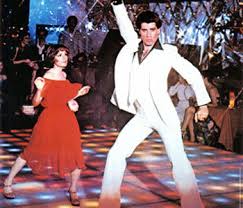 Giovanni says something to me I only half understand. He still hasn't learned any more English and I still haven't learned any more Italian.
It is difficult to write Italian humour because so much of it is in the hand gestures and the expressions. Commedia Dell'Arte is still alive and well around the twenty seater tables of paesani all over the world. And so is love.
This is a beautiful Italian Thanksgiving dinner I have been invited to and there's quite a crowd around the table. The buffet includes Nita's yummy beets roasted with rosemary, eggplant, roasted peppers, sautéed rapini and deep fried cauliflower. They have also roasted a turkey and ham and Tania has made a gorgeously decadent sweet potato casserole. Louisa has made what my Nonna Lucia calls cavolo (simply: cabbage) but they call it cabbuci (I think: like cab ooh chee) Children eat cabbage when it's called cabbuci. Who doesn't want to eat cabbuci? Nita's sweet little girl, two years old, has two helpings! Cabbuci, then ice cream. Perfect meal.
I haven't seen the Cipriani family since I was a teen. My Dad used to run a pool hall and pizzeria with Giovanni in Calgary and then Giovanni continued in the restaurant business and now owns the deliciously authentic La Trattoria D'Italia Ristorante on Edmonton Trail with Mario. They are quite famous for their roasted red peppers and foccacia in particular.
I have connected with Sonia, Nita and Tania through Facebook and finally see the latter two after all these years. And now their daughters, with their beautiful ringlets and shy smiles are the age we all were when I saw them last. Sonia, the one I used to play with the most, closest to my age, is stuck in the midwest USA with a husband who doesn't ever want to move back to Canada. Sometimes she will get in her car and drive straight North, all the way home, when the homesickness gets to be too much. Tania explains, "She doesn't understand that living in the same city doesn't necessarily mean we see each other very often. It's so easy to get busy with work and dance recitals and – life."
We talk a bit about the restaurant business. The family has managed to stay in the business for – I don't know – maybe thirty years now? Quite an achievement. I saw my Dad start up six different cafes/bars/pool halls over the years, only to see them all eventually fail. He died penniless and largely he died from living a hard life with long hours and terrible stress. The restaurant business is too risky for me to contemplate – and I'm an artist!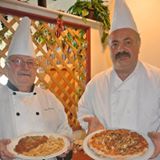 (for the restaurant groupon check this out: http://www.groupon.com/deals/la-trattoria-d-italia-ristorante)
We swap stories about fabulous Fabio Di Felice, their cousin, who owns the chic Vizi Capitali in Rome and has his own cooking show! From what I understand he was a little farm boy in Italy who admired Giovanni and grew up to be a chef, inspired by him. (Anita and I went to Fabio's restaurant in April and he treated us like royalty, bringing amazing dish after dish, closed the restaurant and then took us on a tour of Rome in his little sports car at 2am! I am going to go back to Rome, if for no other reason than to have those sepia ravioli stuffed with lobster)
https://www.youtube.com/watch?v=EDue8yDfJXs