I have an orphan's turkey dinner to whip up. I should really start on my tarts. My house is one big mountain of wrapping paper, gift receipts, grocery bags and unpacked suitcases. My old dog has done his daily barf, but that's okay. He hasn't died on me yet and that's what counts. And my cat came home, finally, at 6am, her little saucy bell ringing as she hopped down from the fence. She is conked out beside me from all her carousing. I'm a little sleepy from getting up early to wish Nora a merry Christmas in Toronto. Thump thump thump as I write. I think I have come to realize my neighbours upstairs are not vigorously chopping carrots…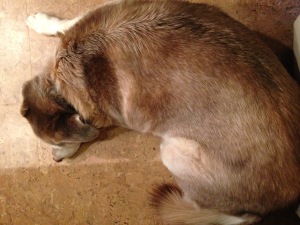 And here I sit, writing. Happily sipping my coffee, nibbling on a slab of panettone, and feeling quiet vast joy. Like an open field of snow under a prairie sky. Miles. Fellow called me up to wish me a Merry Christmas. He had the morning exclusively with family. This isn't a terribly happy time of year for him. But I saw things move from tears and long heavy conversations to quiet understanding to silliness to laughter to song Christmas eve. I made chocolate lava cake with one of our kids while Fellow carved the roast lamb. The child told stories and jokes at the expense of Fellow and I have to admit, it was damn funny. We did pretty good all round, I'd say. Fellow, this morning, on the phone, "I'm surprised. I'm feeling quite…happy, this Christmas." I am off to see him soon and supervise what he's done with the turkey. At least someone has started cooking!
Last night at midnight mass I was asked to read the scripture: a first for me. I was so entranced with the trumpets and the choir singing, I missed my cue. But no matter. It was a dramatic pause. We had reverend Peterson out. I don't know who he is, but he's  some big deal in the United Church and I can see why. What a wonderful speaker! Humble and animated and wise. He focused quite thoroughly on "the hopes and fears of all the years are met in thee tonight". Hopes and fears. Met. I love that. What a great carol. Why haven't I ever really heard those words before?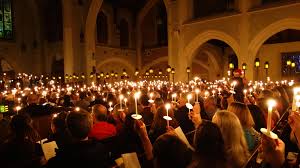 May we all hear new words, be surprised by joy, and have our hopes and fears met. This year old dogs are going to die, children will cry big splashy tears, daffodils will pop up in unexpected places, it will rain too much, a new joke will be told, the sky will burst open and joy will unfold.