Today was the last day of filming and I got to walk around San Francisco: through parks and down streets with lovely shops. Yesterday I bought some cobalt blue and off white Fluevogs for my wedding shoes. They were absolutely gorgeous but not necessarily something I'd wear again. And when I got home and did the currency conversation, I could not justify the purchase so returned them. It was difficult for me to do this. It was sad handing back the beautiful box in the beautiful bag. The shoes were tucked into their little snug box like two nestled twin blue birds looking for a nest.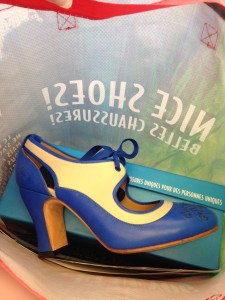 (Just to be clear here, I already own four pairs of Fluevogs…)
Today, I stopped in my favourite second hand store instead. Crossroads on Irving has a consigner with a shoe fetish who discards hardly worn items in my size. I won't be wearing the black and white converse or the clunky sandals to my wedding, but they will be sported all summer, fifteen bucks each. Yes! And the converse allowed me to walk all day without blisters. Anyone who knows me knows I usually wear terribly impractical shoes and always head out without an umbrella.
It's been a great week of filming. I'm learning over time to conserve my energy on set for these long days. Much like I'm slowly learning what to purchase in shoes. Invest in what is needed and what will last. Get a good sleep. Drink lots of water. Walk. Cat nap. Eat the crafty carrots not the donuts. I don't have to become best friends with so and so anxious actor who is looking for approval and has a fascinating complicated life story. Letting them drain my energy isn't actually helping them, me, or the art. And also, I must not be that person to them. And I can be. No. It's better to be Ms. sensible shoes: kindly and quiet and find a good corner with a good book.
I just finished a great meal with my dear friends, JP and Cathy. Such good people. This shoot has been tricky, to be honest. Not because of the film, but because I agreed to do it before I knew I was going to get married, buy a house, renovate and have an opera produced this year. But the big push is over and now I get to enter a phase of life where I can focus on my health, work forty hours a week instead of sixty, that sort of thing. This new life starts tomorrow. And it kicks off with a Spring Detox nutrition program of all things. My last sip of Gran Marnier, my last snicker doodle cookie, hello new shoes.