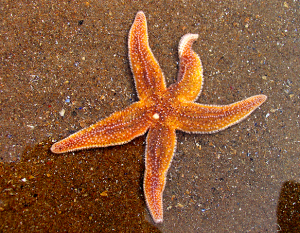 There is a boy on the bus, maybe seventeen, who looks so much like the late Jeremy Tow I can't stop staring at him. And then I turn away and tear up and then I stare at him again. He's got a blonde fawn wobbling her legs at him and batting her black mascara eyelashes all Avril Lavigne but with more west Vancouver privilege and one less tick. He's got the kind geeky sidekick with glasses; loyal to the end but secretly wishes he'd attract the blonde. Doesn't have a chance.
The Jer look-a-like has sun glasses on and is staring out the window in deep thought while the other two wait for him to re-engage. It is such a striking resemblance; my throat is tight and I fight for breath. It never ceases to amaze me: who, of the gone, I miss the most. Meanwhile, the woman beside me is talking about star fish deaths. The west coast outbreak of SSAD killing them off, the most devastating marine viral outbreak in recorded history.
The stars I miss.
My daughter jumped into the sea yesterday – into the deep. She swam around, limbs splayed and joyously giggling at me. I was clinging to the dock, unable to work up the nerve to plunge into an element I never grew up with. I'm a prairie girl. I am used to seeing for miles. This green blue salty stuff swallows legs, I can't see my feet. She laughs, she doesn't understand.
"Mommy, it isn't that cold!" And I stammer, "it's not that, it's…"
I didn't want to tell her I haven't the nerve. I didn't want to reveal my unfounded fears of sharks, giant octopus, or currents that suck swimmers down into sea caves.
So, I jumped in. And I would like to tell you it was freeing…but it totally freaked me out. I started to feel claustrophobic, I couldn't breathe, I floundered for the dock rungs and lifted myself out.
"That was a big step for me", I explained to her. My mermaid swam up to me and called  me onto my knees to whisper a secret, "Mom, I can totally see your bum in your bathing suit. Like, the skin and your butt crack. It's cuz you've been sitting instead of swimming."
"No!"
"Yes. It's a cute bum at least."
Nine years old: the age of double whammy honesty.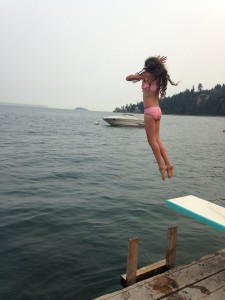 I am on the bus because I am heading into Vancouver for an audition. My radiator blew and I'm off to a rocky start. I could not find my resume in the heaps of moving boxes, or a headshot or nylons. My blouse is folded into a bag with my "too big" skirt the Bay wouldn't return but it was handiest for today. I don't know if I will make it with the ferry delay and this damn bus that is taking forever in this heat. I still have to hop over to Kinkos and print everything off…
When the bus finally arrives I run with my bag of clothes and make-up to the spot where Kinkos used to be on Pender…it has moved to Canada Place. That isn't too far, I run another four blocks North, now in a full sweat. My online directions lead me to a Starbucks "arrived". I am not. I run in and out of doors and down halls and nobody knows anything about a Kinkos or similar print shop. Finally the Kinkos girl on the phone picks up and talks to me all breezily like I am the biggest idiot in the world for getting lost. "Oh we're right here on Cordova…"
I enter the underground mall trifucta of Waterfront Centre Canada place and the Fairmont – look down at my watch – I have fifteen minutes to get to my audition. I've blown it. I can't believe I've been lost in my own city for nearly an hour and screwed the whole day up.
I stumble to the Starbucks and order a nice big iced coffee thingie. Debit card declined. What?! What?! Oh right..I forgot to transfer funds…and I haven't made a new dime in a month. What I need is a gig, like the one I'm not auditioning for.
To not entirely waste the day, and to cheer myself up, I decide to go try on bathing suits: there's a sale at the Bay.
Have I completely lost my mind? What woman tries on bathing suits in a flourescent lit monster box to cheer up?!
After trying on twenty fails, I crumple in a heap of spandex. In better circumstances these "E"s would stand for Erotic, but at this moment they stand for Elephant. And when did my nice firm legs and arms soften like pink mushy westccoast star fish?
I remember a time when I would plunge into the ocean and pretend not to be afraid. It was when I was in love with a  kind man who tried to love me back  but said he never found me attractive. I was twenty-five and perfect then. My courage and my youth didn't matter. It wasn't a winning match. We'd leap into the ocean at night with Jeremy and Anita and other friends those heady Chemainus days, and phosphorescence would light us like mermaids and mermen.
Bing. My phone rings. My fellow texts me, "How did your audition go?" Bad timing for him. He gets a long rambling confession back. He simply writes "Oh". And then I tell him I will be over my self pity soon, to which he replies, "Good."
Humph.
When I rumble back home on the bus with my too big skirt and my pockets empty, the seat where the Jeremy was is replaced by hearty hikers from France headed to some island adventure. Both the man and woman are blonde and can tan, you know the type. The place where their hairline meets their skin looks a bit like the dreamy haze on the top of creamed honey.
I write an email to my agent to apologize, simplifying the list of stupidity to the first domino: my rad blew. I chuckle to myself when I realize I never did locate the mythical Kinkos.
A local older woman in primary colours with a grocery cart is speaking to the honied French about the forest fires creating a haze in the Strait of Georgia. She mentions the level four drought and climate change. It reminds me of something my friend Shawn Macdonald recently wrote: would people notice these environmental changes or care as much if the fires were further North and not blocking their urban oceana views?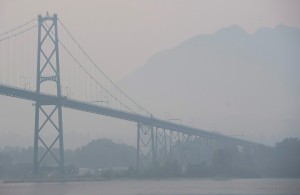 Fellow picks me up at the ferry terminal. He mutters something about the environment, Stephen Harper and Armageddon. My empty pockets are extremely heavy, especially in light of all our renovation bills coming in and wedding expenses and a foolishly timed trip to Costco to stock up on essentials so we don't pay inflated island prices…
I think getting a Costco membership is some kind of marriage hazing. If you can survive the post shop stress fight over paying $350.00 for – what – bulk chewing gum and toilet paper? You can survive anything.
And yes, we have that fight on the front deck. Very rare for us to fight at all. My daughter's little hand reaches out and closes her bedroom window. But neither of us say anything cruel, only unreasonable. And then we get reasonable. And then we begrudgingly admit the other has a point. And then we ask what the other needs. Then we apologize and embrace warmly.
I head up the stairs to my little witness and wrap her in my arms.
"I knew you two would fight about money because you don't make" much, Mommy."
The double whammy again.
"That's what most couples fight about. I'm not sorry you heard that fight though. People fight sometimes. The trick is to learn how to have a healthy fight. You heard how we talked it through?"
"Yes".
"You saw we made up?"
"Yes."
"The fact that we can do this tells me we are going to make it."
"Okay."
We decide to all cool off and go to the beach. Fellow and the kids are good swimmers and dive in like amphibians. I slink into the water in my bathing suit and shorts and this time I swim out in a little tiny frigid circle and return. It's an improvement. Fellow, on the sly, gives me a good squeeze in a few places in particular and says a few complimentary things that end in, "Are you f'ing kidding me?" He finds me attractive. And he loves me.
We meet up with some Bowen old timers at Eaglecliff who have been out prawning. "Only twenty-five today" says Sandy, a woman well into her sixties, who just climbed off a very nice looking speed boat. She is ripping off heads and handing them to the children who poke at the black bobbled eyes and pull at the long pink antennae and chuck the heads into the sea with glee. "Commercial fishermen wipe us out." I wonder about eating prawns post oil spill earlier this year but say nothing. What do I know about bottom feeders? Oil floats…
My new friend, the warm and sunny Cathy, reclines on her excellent beach chair on the end of the dock, smiling. She's more voluptuous than me.
"Hey, you know what I saw today when tide was out? A few star fish."