Though I had a great deal of fun doing a "countdown to the wedding" Vlog on facebook, tracking my home renovations with Nora, I have missed the art of arranging words beautifully. Oh how I love to fingertip my way through a bucket of colourful adjectives, plucking just the right posy to contrast with a woody noun, arresting my eye, making me look at its meaning afresh in a bouquet that describes my day. Andrea Isaak did my flowers for the wedding. This makes me think of her. I actually don't know her all that well, but she's the kind of vivacious woman you love right away. She said something along the lines of being blessed by my writing so often through the years she wanted to bless me with her artistry: she's a gifted florist, among other things. And my God, did she ever work wonders. I love someone who loves what they do. She couldn't help herself, the day before the wedding she had to write and tease me with a hint of the colours of blooms she had gathered for me: the cobalt blue to match my shoe…she was giddy about the beauty.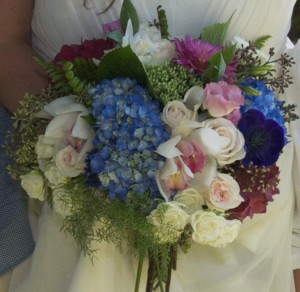 This is my first morning to write…in…weeks. I have missed silence and order and I relish my tiny corner.  When I Vlog it captures my physical reality, when I Blog, it captures my spiritual reality. This is also why I prefer drama series over reality TV and playwriting over docudrama, improv or the like. Just because it is factual or immediate does not mean it is any more true.
Truth. That elusive value.
I am married. Happily. That is the truth. I have two children now, two canoes, an extended family of Irish/Scots with strong chins and a bustling house overlooking the sea. Who would have thought?
I sip my espresso and stare out at the huge Douglas fir at the foot of my deck. I adjust my prickly new wedding ring. In the aftermath of our glorious celebration, we are lacking nothing except another two onions and some orange juice. We have, inexplicably, three quarts of cream and an alarming amount of breakfast sausage that I can't believe isn't eaten yet. We have no white wine left and thirty six bottles of red. We have a lot of unexpected delightful relatives who took great pains to get here, but a noticeable lack of interest from my Italian side. But who did send a very nice handwritten post? My ex-husband. And a very thoughtful note from my brother-in-law. We have fourteen water bottles and only six coffee cups. We've run out of mixed nuts. We have the exact perfect amount of beer.
We are in the middle of a week with sixteen guests staying with us and as I write this, three come trotting down our steps to greet me, Drew and two of his sweet daughter blondies.
Pause.
They recognize silence as soon as they open my door and whisper, "Oh, we will leave you to your moment of peace, it must be nice." I smile and can't help but agree. They turn around and the tow headed troupe bounce back up the stairs and into their car in search of eggs on toast in the village. My fellow has such a wonderful group of family and friends. I am not inheriting a single rotter. How rare is that?
And what a beautiful event we managed to miraculously pull off. I did get my house ready enough for guests. Eight days before they arrived I had drywall dust on everything, 2/3 of the house left to paint, boxes up to the ceiling and ram board on all the floors covered in screws and old light fixtures, plastic wrappers, gunks of drywall mud, dust and spiders.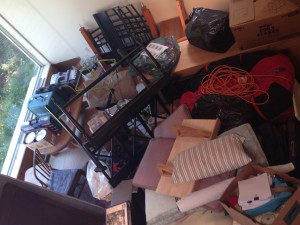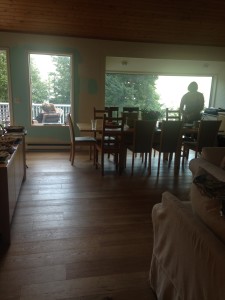 But day by day we all worked, including the kids, and by the time everyone arrived we had all rooms functional, beds fresh and tidy, the walls and furniture and plates and cutlery dust free, the floor clean, and we bought a long harvest table that seats ten comfortably.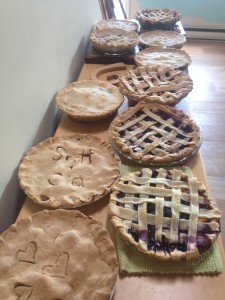 The day before the wedding I baked twelve pies with the help of my sister and then we threw a big BBQ and open house for friends and family members to pop in…about thirty people. The next day I ran errands and delegated the decorating and setting up with family and friends and ferried supplies back and forth from the Holland's house: the friends who offered us their home for the celebration when we outgrew our own. Donna-lea, Nathan and Ian were a dynamo team of helpers extraordinaire. I could not have pulled this event off without them. And Fellow's immediate family and mine too, worked tirelessly to make this whole week happen. And there was fun and friendships formed in the industry of it all. Kind of a barn raising.
The cloudy skies cleared and the sun shone gorgeously over the water. I was still running around all hot and sweaty until 4pm, the wedding started at 5pm…and I looked longingly down to the beach (the house has a large garden and waterfront property). Kids were splashing in the water and so was my soon to be groom. Suddenly, that seemed like the best idea in the world. I knew my hair was greasy and my nails hadn't been done and I hadn't even fully scrubbed all the hallway paint off my limbs and finger tips yet, but I had to STOP and just BE. So, I pulled on my bikini and ran into the water. As soon as I plunged in, on-lookers laughed in surprise that I wasn't holed up in my cabin with a curling iron…! The handsome minister, Dan, stood on the shore in his short sleeves, a pinking ginger, chuckling, "Well, I've never seen a bride plunge into the ocean half an hour before the service before, I think I should start recommending it! How glorious!"
I swam out into the cool waves, unafraid, flipping over on my back to float. Such joy and realization flooded me. I was going to marry the finest fellow on earth. I was going to have a son and a daughter. I was going to be surrounded by people who love me. Miracles never cease. I flipped over again when I heard the voice of my Fellow and swam towards him and plastered my wet cold body against his and gave him a drippy salty kiss under the sun.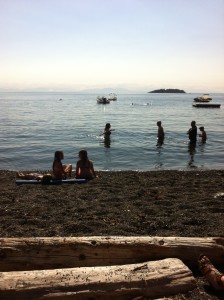 Then we scooched out of the water and scuttled over logs towards the small cabin we would all change in. Some were in the outdoor shower, some were pulling off wet swim suits in the bathroom, I was ironing pants and scooting relatives off the deck for a bit of privacy. It did get a little frantic. Andrea whipped together Nora's hair with fresh orchids while Anita zipped up my dress and Cheryl put on my necklace. (The dress was altered so quickly and well by Tiffany's Bridal, I bought it about eight days before the wedding) Then, while I slapped on some red lipstick and let my hot rollers fly into the sink, Andrea swept up my curls on the side and pinned flowers into my hair. As Anita painted Nora's fingernails blue to match her dress I did a last minute fashions oops and held out my paws too. But who cares? It was wrong and it was silly and it was right. Then I shooed my ladies in waiting away as Fellow and the other child paddled up to the grassy garden in a canoe and Drew drew them into shore.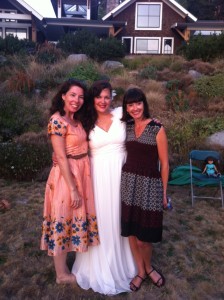 Darcy and his daughter Charlotte started to play Longing to Belong by Eddie Vedder on Ukulele and double bass while Nora and I took a last giggly sniff of our bouquets, a wave of our nails, a wide grin at each other and tip toed in our fancy shoes and frocks up the garden path towards the boys, the band and the beloveds. It didn't really hit me until now that I was walking myself down the aisle. I had a momentary pang, missing my Dad's wide warm hand. How proud he would be. How happy. He would have been the only person in a three piece suit and six hundred dollar shoes. And Nonna is notably missing from the front row of chairs, sitting regally in a signature plum coloured tailored dress and jacket with a matching hat. Through the trees I see my brother, smiling. His eye crinkles are just like Dad's. He's grown into such a strong solid fine and generous man. He's here. He's here. And I see my Mom and Stan and Uncle Ed and Aunt Connie, they're here. The generations are here. The ones who raised me are here. And it is right I am walking towards my Fellow alone. I got here on my own. I have paid for my education and my house and my wedding on my own. I found Fellow on my own. I have made my own way these past six years, solo. And I'm proud of that. This is the rightest way to walk down this path, Nora and I, holding hands.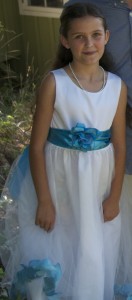 Nora tossed flowers on everyone's head from many directions, taking full advantage of the length of the song and then we launched into a moving and loving quick ceremony in the garden, by the water. We included a vow to each child to love and respect them equally and support the efforts of the other parents. We welcomed each child into our family as our own. Oh how I want to go on and on about how amazing it is that I have this other child in my life – the honour it is to help them along and watch them grow into adulthood – out of respect for their privacy I won't – but believe me, I feel so blessed. This other child is a beautiful human being. The only time I heard Fellow's smooth deep voice crack with emotion is when he said to Nora, "I welcome you into my family as a daughter." The two kids sang and played guitar, which delighted everyone! Our rings slipped on with ease, Dan's message was wise and inclusive and "us", Anita read a gorgeous scripture and Brett played a song that I had written with John Mann during one of the worst times of my life, dreaming of better times. How fitting. Then we were announced husband and wife with a big kiss and honestly, it could not have been more true.
After the service, in the receiving line, a couple of big tough handsome fire fighters said to me, "The vow to the kids nearly got me going there, I could feel the little twinge in my eye, very moving." And then Norma slunk up to me, chuckling, saying, "No, they're lying. They were bawling their faces off, I saw them. Busted." We sat down to a terrific meal catered by Artisan Eats on the Island. Eve Hell and the 427s played an hour and a half of slick fun surfer music (God those guys are unnecessarily gorgeous) while we finished our meal and dove into the wedding pies and ice cream and then made our way down to the grass to dance and dance and dance as they switched over to rock-a-billy and let my sister wail out her gutsy songs under the setting sun for another whole hour!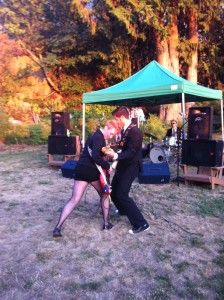 After everyone had gone, Fellow and I snuck down to the beach cabin with a stashed sour cherry pie and a bottle of prosecco and opened our boosta box. Along with the kind cards and money for our house fund there were two presents. The first one was a painting of a pig and the second one was a rock in a box. Oh my God, we laughed and laughed. "A pig and a rock. Well, that takes care of the roof." Laughed Fellow.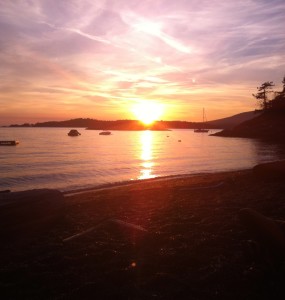 What eclectic friends we have! And how perfect are those presents – the significance known and private to us. The truest pig and rock in the world.
(PS a wedding picture might follow, haven't gotten them yet) xo