Killarney Lake loop is a woodland 5km, my newest and fastest friend as I collect my ten thousand steps. I pass babbling brooks with red legged frogs, slender spring blue dragon flies, a tree that oddly flung off a long piece of bark, draping it over a lower limb, ready for a coniferous skinny dip.
I pass a broody young man with headphones. Two old ladies in turquoise and pink leisure wear. Three young mothers all dewy with sweat, their babies in backpacks, bobbing their downy heads. Then, for the next hour, I trek entirely alone.

Earlier in the week I had waddled into a gorgeous clothing store with my mother-in-law. It's in Artisan Village on Bowen Island: Wren. The equally sophisticated owner was there: Erin. Everything in the store was delicious: all designer wear but reasonable. Lots of fat comfy slouchy knits and swingy pants, gorgeous floaty silks and thin sexy cashmere. One could mix and match almost anything and it would go together. Lots of blacks and whites, a shot of red, a glimmer of blue and a stash of delicate yellow lingerie, light as buttercups. I caught a glimpse of myself in the mirror. My hair was pulled back in a severe mother Hubbard bun. I was wearing a crumpled pilly pink sweater that my husband very very gently asked me not to wear around him. This was over a nice dress to be fair, but I was getting far too fat for it and my cleavage was spilling out like two bald wrestling twins and I was wearing…yes…I have to admit it…Crocs.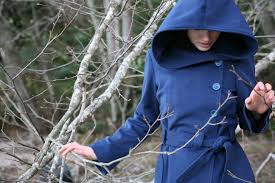 Oh how the mighty have fallen. People used to ask if they could photograph me.
Now, I haven't gone completely to pot. Don't get me wrong. I still shave my legs. I still have great shoes.I still floss. But I've put things on the back burner and have turned into a bit of a wrinkled turnip.
So, in Wren, as I walked around fingering fabrics and oohing and awing, I hatched a plan. What would it take for me to rebuild a wardrobe so I always looked decent? Probably a thousand bucks. I mean, if I want to go with new clothes. And I do. And how many days would it take me to follow my allergy diet and restore my health? A hundred days would likely be great. So, how about I pay myself ten dollars a day to eat healthy and continue my exercise? Then, when I'm back to my normal healthy self, I have the money for my wardrobe. My God, I'll save half of that in wine and cheese alone!
Funny how being free from hives and chronic irritation and fatigue isn't motivation enough for me to eat properly. Funny how I know it affects my employment opportunities as an actor if I don't stay in very good shape and that doesn't make a plan stick either. Nope. It's cashmere, baby.
Whatever works.
So, I've had my crisp apple, my lemon water, my green tea, my oats, and around the lake we go. Day two. I actually think this is going to work.
I round the marsh and stride along the boardwalks past cabbages whose pure purpose in life is to stink. The marsh has a few tall bull rushes that are leftover from last season. The fluffy bit on the end is all pulled and tuffed out and at first squint, it looks like a line of impaled gerbils on tall sticks. Morbid Lucia. Morbidly laughing.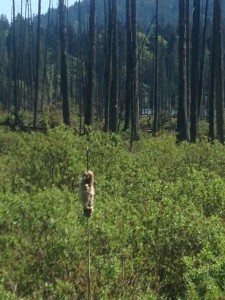 I duck into the woods again and in the distance I hear a lone bird. He sounds like a lost old man. I picture him wading through the water up to his hips with milky eyes, forgetting she is dead, calling out for his mate, "Bernice, Bernice, Bernice, Bernice…"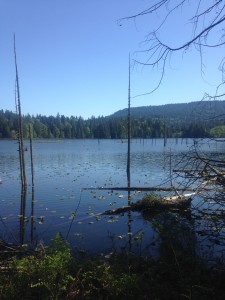 A large dying tree is beautifully distressed with a bug infestation. I think: poor Fellow has had to listen to me bellyache this whole time about my fitness, about my allergies, about my clothes not fitting. He always coos that I look gorgeous and then he cops a feel to prove it and once he said something like, "It's all part and parcel when you live with a wom-" and stopped himself one syllable short of sounding sexist.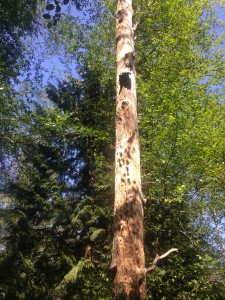 But come August. Come August. I'll know this trail by heart. The bullrushes will send up strong new brown tipped shoots, the dragonflies will buzz around big as fighter planes, the dying tree will have another hurrah and bloom.