The outdoor hot tub is lukewarm this afternoon at the MGM hotel. We are beside the "talent pool", watching morbidly obese people wade into the water while sipping slushy alcoholic drinks served in the shape of a stripper's leg. My husband decides it will be great fun to bring up the presidency with a retired red-head from Pennsylvania. She immediately confesses she's a moderate.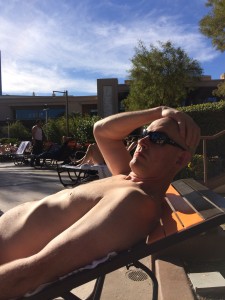 "Well, I'm going to vote Republican no matter what, but I can't say as I like Trump." I sigh and lean my head back against the tile. The Trump tower looms black and ominous to the North of my head. Must we talk politics? This can't end well.
"It's the immigrants that are the problem, and I agree with Trump on that. Especially the Mexicans…you know, Spanish is becoming the world language now, not English. And listen – I was an immigrant, well, I come from immigrants, and we didn't demand to speak German in school, we learned English like everyone else…and here I am now paying for their health care.  I mean, how do YOU like your healthcare – you're from Canada, right?"
"We love it." Says my husband. "Nobody should be without it. My taxes go towards providing healthcare for people who can't afford it and I feel that's money well spent."  She didn't expect that answer from someone who looks so down to earth and reasonable. She flusters about the terrible waits she's heard about in Canada, "No system is perfect", says my husband…"Nobody I know has experienced a terrible wait." I watch the young latina custodian pick up towels and empty beer cans beside us. I wonder what her life is like. I wonder how often she's heard this conversation. When I zone back, I hear:
"Immigrants are a problem all over the world. My friend in Greece says they have the same issue. It's ruined their economy."
"Immigrants have ruined Greece?"
"Oh yes, haven't you heard? I make sure I watch news from around the world."
I pipe up, "Oh, I think that's a great idea. Sometimes I listen to the BBC – "
"No, I mean, it's an American station that covers the world objectively. And anyway, all these companies, like my husband's dot.com, are going to Peru for cheap labour. Mexico. All that."
Confused by her logic, I ask:
"Well that has nothing to do with immigrants. That has to do with greedy big American businesses looking for low wage labour overseas trying to please American customers who want something cheap more than they want something made in America. Immigrants aren't your problem. Buying at Walmart is your problem."
She explains the world to me with suspicious and narrowing eyes, as though I were a small stubborn child. "It's the insurance the companies have to pay that drives them overseas…" I zone out again, wishing I had a stripper leg. Through the roar of the tub jets I hear:
"One of the biggest mistakes we made, us Americans, was to give away the rights to the internet."
"Pardon?" says my husband, with an amused smile.
She goes on with a voice full of authority. "Oh yes, you don't know that, do you? We no longer control the internet."
Her mousy little husband finally swims over and gently says, "Hon, that's not-"
She cuts him off, "We don't have rights to it anymore. And boy, if we did – "
He tries again, "The internet has always been-"
She cuts him off again, angrily, "You know what I mean!"
He gives up and swims to his corner, sipping his slushy compensation.
This conversation goes on a bit, just as ill informed and horrible as it started. I can't stand it anymore so I get out and take a little swim in the "talent pool" with the fatties while my husband continues to find her ignorance amusing.
The water is nice, the sky is blue, and the palm trees are gorgeous and feathery in the slight breeze. I don't come to the USA often, but whenever I have, it's been a terrific experience. I have loved the neighbourhoody history rich New York, the breezy hip Portland and Seattle, the enlightened joyful San Francisco, the over-the-top LA, generous San Diego…but Vegas makes me feel deeply uncomfortable.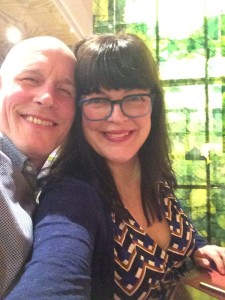 My husband and I decided to do a "mini -moon" every year instead of a big honeymoon. I've never had a desire to go to Las Vegas but Scott had a really great time here about eight years ago when he met up with his relatives for his Mom's birthday and saw a bunch of shows. I think now he realizes what he loved was not necessarily Vegas, but his family.
We thought this was going to be a cheap getaway because of the flight and the hotel. What we didn't anticipate was the huge expense of everything else. Gone are the days when drinks and food were reasonable and plentiful to attract the gamblers. The first day we arrived we had an $80.00 MGM champagne brunch that was absolutely terrible. The second disaster was at their Avenue cafe. I mean, it sounded good: Valentine's fresh fluffy buttermilk flapjacks, topped with strawberries and cream cheese whip, with a side of heritage ham and real maple syrup. But it arrived a doughy puddle with a vomit of milky pink on top and one bloodless strawberry dissected into four pieces with a side of processed ham that looked like a big knee scab on a plate. Not a twist of orange. Not a slice of melon. Not a sprig of parsley. Scott looked woefully at his own pale lump of hashy dog's breakfast  and said, "This is why so many people here are morbidly obese. The portions are huge but you have to pay over a hundred dollars to be served any semblance of a fruit or vegetable."
The night before was a culinary success because we laid down some solid coin. We had a delicious meal at Wolfgang Pucks: ordered a bunch of appies and ate tapas style. The tuna tartar and the Brussels sprouts were favourites. We greatly enjoyed our first show after that. We saw Zumanity. The queen host was tiresome and tired and I think she knew it. But the acrobatic acts were mesmerizing, incredible! Sensual. And the venue was so intimate, we could grab the hand of a trapeze artist flying over our head or spank the bottom of a burlesque clown trotting beside us. It was breath-taking, and interestingly enough, so very French Canadian. What I've loved about all the Cirque shows that I've seen is: they haven't been Disney-fied. That first night we strolled back to our beautiful clean and spacious room buzzing with beauty and wonder.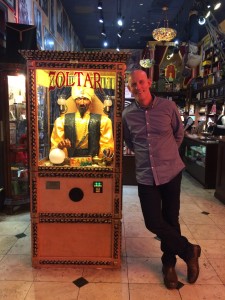 The day after, we went to old Vegas: Fremont Street, by the Golden Nugget, to slowly lose a hundred dollars at the $5 blackjack table beside a bunch of senior citizens blowing their pension checks. God, it was so depressing.  And along the street were buskers who were entirely without music. Instead, they were dressed up in weird outfits for the sole purpose of asking tourists to pay money to take a picture with them: a young woman dressed up like a cat with a whip, two old men in pink g-strings, a bearded bear in butterfly wings…There was a legless woman in a wheel chair surrounded by hand written signs that said, "I'm a bitch, but I'm honest. F#$k you, give me money so I can buy a drink."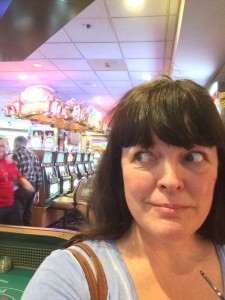 My phone beeped in the boulevard. "Stuart McLean is dead". We both stopped in our tracks. In the middle of this dry dirty desert. "That was sudden" said my fellow. Our mouths, dry. It's too big a loss to talk about. In this place. We've lost our voice.
We've lost our voice.
We pass the Heart Attack grill where people over 350lbs eat for free. We head to the pawn shops, including the famous Pawn Kings: a reality TV outfit. We sniffed with the crowds around the dusty diamonds and the bizarre bobble heads and ugly vintage velvet paintings. What are we here to see? What are we looking for? What treasure could possibly be overlooked?
Our meal on the fourteenth, Valentine's Day, was another big splurge. We ate at the Heritage steak house at the Bellagio in the atrium. It was absolutely gorgeous. Our big handsome waiter was charming and the meal was fantastic: lobster and Bibb salad, ribeye with a risotto that rivalled anything I've ever had. I cherished every bite. I did catch myself thinking, "you just swallowed ten dollars, enjoy it. You just sipped five dollars, slow down." When we got the check, I did ponder, "Now, was that worth it, or would you have preferred to re-tile the bathroom?"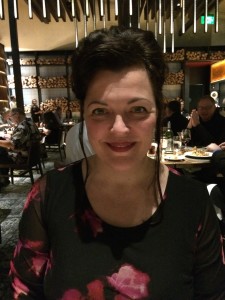 We went over to the gob-smackingly creepy Lexor pyramid to see the Blue Man Group. It was inventive, soulless and playful. At the end of the show, a shower of thick paper streamers and confetti covered the entire audience. Maybe it's my years of being a maid, but I did think about the custodial staff once again.
Our last day in Vegas we walked halfway up the strip to get to a breakfast joint that got a good review. We went to Hash-house- a go-go at the Linq. The decor was steam-punk diner crossed with a Denny's and breakfast was much more reasonable, huge, and delicious. I had a curious stack of sage chicken and waffles, stabbed with a sword of rosemary and dotted with two tablespoons of chopped vegetables.
We wandered the strip and ended up in the lavish hallways of the Venetian, overlooking the trapped gondoliers in the cement canals, underneath copycat frescos. Scott joked, "We don't have to go to Italy now, honey, we've seen it." We snuck into their hotel garden and dipped into a hot tub that was actually hot. While simmering in the virtually empty courtyard, I pondered the fall of Rome.
That night we saw O at the Bellagio. I have never seen anything so spectacular. Again, we were so close, I could see the water drip off the twinkling costumes of the divers. A tiny gymnast slipped off the top of a slippery wet human pyramid of contortionists but the show did not stop. I watched as the other gymnasts quickly checked in with her and she nodded she was fine. But then, in the routine after, trapeze artists were on a huge swinging pirate ship way up in the air. The small artist – I think it was the same woman – fell again. This time she plummeted backwards and dropped about thirty feet into a pool of water. It was frightening. Her little head emerged from the water and she slunk to the side of the stage and lay there until the routine was done. She made it through the rest of the show, but I wondered to myself if she was injured and if she would be fired. At her expense, it heightened the reality of the danger the artists were putting themselves in for our amusement.
Meanwhile, beside me and in front of me, after being warned at the beginning of the show, by an usher halfway through and a violent SHHHHHH from me and "No!" and "Will you please shut up?!" The people around us were talking through the entire experience and taking pictures and checking the time on their phones. I was AGHAST! Once the lights were up I yelled, I YELLED at the people next to me,
"Don't you EVER EVER EVER do that to performers again! They are risking their lives up there and you are checking the time on your PHONE?! You think they can't hear you talking your fool head off?! You think they can't see the light from your f$#*ing screen?! They aren't robots, they are HUMAN BEINGS! How dare you do that to them and to the rest of us who have paid good money to see this show! You should be ASHAMED OF YOURSELF!"
I could hear in the background Scott gently calling me to calm down, "honey, hon, honey, Lucia…"
Finally I heard what he had to say.
"I don't think they speak English."
So, to make my intentions clear, I mimed swiping a phone and talkie-talked my hands at them and continued to yell:
"Understand me now, ASSHOLES?!"
It's rare that I am this angry. The people I accosted were looking straight ahead, entirely ignoring me, a little bit frightened as we all shuffled towards the exit. Good. Be scared. Be very scared.
Once out into the fresh air, I assured Scott they didn't wreck the experience for me. t loved the weirdness of it and the beauty and the feeling of loss and unexpected joy. How interesting that every show we've seen had audience participation and very little dialogue. We stopped to watch the Bellagio fountain show. It was a spectacular display of water shooting way up into the sky, timed to an American anthem of sorts, a country tune. Creepily, a huge billboard lit up a recruiting ad for the US army during the song.
Scott gave me his arm as I hobbled back to our hotel in beautiful insensible shoes, and he mused about O's macabre beauty and the circular plot structure and I sighed into the loveliness of his entirely unpretentious English degree.
Now, at the beach, sans moderate red-head, I contemplate all these things before we fly home.
I'm sure something about Vegas will shift down in me. Something about the crumbling American dream.
Though this trip was laced with ugliness, I always have a good time with my fellow and I appreciated the experience all the same. So, I'm glad I went to Vegas once. But now I miss my kids. I miss my own country. I miss "no smoking". I miss my American friends who are classy, smart and make the world a better place to be. I miss Stuart McLean and his celebration of the small big life and the constant possibility of grace between us all.