Our first full day in Rome is planned out by my step-son. We gave the kids one day to plan any way they liked. We are all fresh and eager to get out and see the city. We've had a good sleep. Choosing the suburbs instead of the centre of town meant a quiet night. We slept in, had a homemade breakfast and then headed out. Within a few blocks of Porto Furba, we took the metro to Barberini piazza and had a bite of delicious but insignificant pizza near the fountain full of ancient bees before taking the "dark Rome" tour of the Catacombs and Crypts.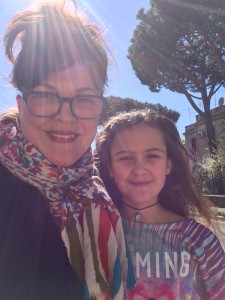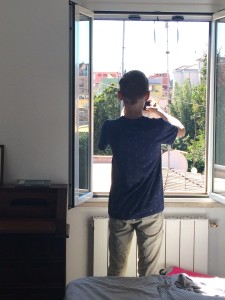 The Dark Rome tour was reasonably priced, it included the swish bus and the museum tickets, and we felt our guide was well informed if not a bit tired of the whole thing. He was a geeky American ex-pat with a teensy tiny man bun. He used a lot of Lord of the Rings metaphors. I thought to myself, "oh buddy, if you're this "done" and it's only March…maybe you should consider a move." But that said, he was a clear and efficient guide with a notable passion for history and I enjoyed the tour itself immensely.
First we went to the boneless Roman catacombs outside of town. We shuffled through the underground labyrinth, catching the odd remaining fresco of Lazarus or St Peter. it was haunting and meditative. There were "cubicula": rooms where people would be buried altogether because they belonged to a certain family or group. It made me think of a play I saw recently called DisPlaced: Angela Konrad's brainchild. It was a collection of refugee stories. A few of the refugees mentioned the thought, "if we are going to die, at least we'll die together".  For example, a family all sleeping in the same bed in fear of a bomb dropping on their house in the middle of the night.
The tour ended right around the time I started to get claustrophobic. Then we headed to the "lasagna church" of San Clemente Basicilica: a 12th century church built on top of a 4th century church, build on top of a 2nd century Mithraic temple. That prompted my husband to start wondering about real estate prices and what one can dig out of their basement in Italy.. We ended up in the profound Capuchin Crypt and museum. The museum included a painting attributed to one of my favourites, Caravaggio. I love how he painted the poor, not just the rich, and with bad hair and dirty fingers and hands.
I've always been fond of the stories surrounding the extreme and passionate St Francis. The Capuchin monks are an even more austere offshoot of the Franciscan order. The Capuchins were living in dire conditions until Pope Urban VIII gave them a church space in the city. They carted 300 wheel barrels full of Capuchin monk bones to the new safe and sacred location and that's when they decided to get creative with the bones of over three thousand monks, all akimbo.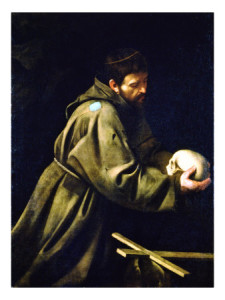 Monk skeletons and bones were assembled whole and in pieces to form vertebrae chandeliers, decorative shoulder blade flowers, skull benches, jawbone ceiling circles…in a series of church halls. The skeletons silently nodded and said, "What you are now we used to be; what we are now you will be…" This tour was a big hit with the teens. My step son listened intently and ran his fingers along the ancient walls.
I was deeply satisfied knowing we were all seeing something amazing and new to us, all at once.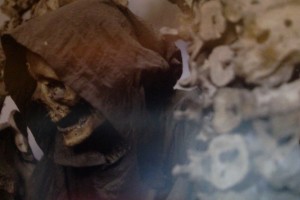 I asked Nora if it was frightening or surreal. She looked at me serenely and said, "Well Mom, they aren't the only people to die. It happens all the time." Then she headed out into the sun and tap danced on the marble stairs.
I was very moved to see all these pelvis' stacked together, one after one after one after one. Such a private part of the body made public. Such a macabre and beautiful and humble grouping of bodies, dead together.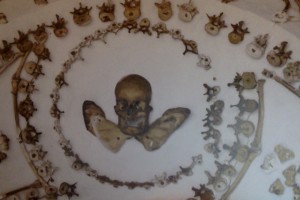 Then we went for a substandard gelato and I chided myself for not doing my usual foodie research.
There, Scott broke his one year coffee fast and had an espresso. This is the face of an addict's bliss.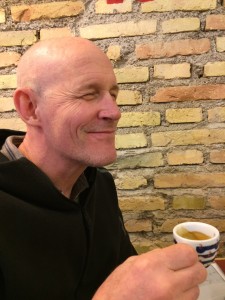 We took the metro home and a violinist and accordionist played Pachelbel's canon on the train.
We rested briefly before heading out for our 9pm dinner: how very Italian of us! When we arrived at Grandma's bistrot, another host recommendation,  it was packed until 10:15pm so we decided to eat outside. It was a little chilly but the fresh air was a lovely counter to all the underground creepiness and the moon was full and high over the funky apartments. Though atmospheric, I would not recommend this restaurant. The clams and mussels were nice and fresh and my daughter's tortellini was lovely, but over all the food was either too bland or too salty. However, the grappa was cheap and the desserts delicious: I got a bag of biscotti with my grappa and the kids ordered some kind of caramel cream cake they loved and Scott stole from everyone quite freely.
The waitress was a bit cool with us. So, I let her know we were from CANADA and she immediately warmed up and expressed her desire to go to Toronto. We assured her she'd be better off coming to Vancouver. The kids got very silly, okay we all got very silly, pretending to speak Italian with bad accents…then we shared our flatulence strategies (necessary, given the rich food) and we laughed and laughed down the cobblestone streets while we headed home full of sugar and grappa and cheap jokes.
The kids are now getting ready for bed, both sharing the living-room: one on a cot, one on the pull out sofa. My belly is warm with moonshine and I am staring at my handsome husband musing over tomorrow's maps with his Italian stubby of beer.
The trip is costing us so much but I never doubted its value. We are gaining priceless family time in return. And as the monks say…what we are you will now be….my step son travels a lot with his mother, a great gift she gives him. And Nora will travel with her Dad next year to France and Amsterdam, something she's already looking forward to. Scott and I value ritual and tradition, helping our kids feel they have a sense of stability and home despite the back and forth of joint custody. But I now see the value of travelling together too. For this moment in time, we are with each other as a family, experiencing newness simultaneously, this binds us. We are not just two broken homes piecing things together, we are whole.