The curvy Italian airline attendants have tailored red suits and beautiful green leather pumps. Silvia on the intercom commands, "Enjoy a your flight" with the same intonation as, "You better behave." We have been up now for eighteen hours. Nora's enthusiasm has been squashed. Her little face reminds me of the Italian ricotta cake I once made that the dog sat on. She sleeps in the shape of the liberty bell. She wakes up and rings in the day with a sudden ferocious vomit on the rug floor of the Air Italia bus. I buzz feebly for help mid-descent and am completely ignored until the entire plane has disembarked. I approach an attendant; she wrinkles her nose at me and hands me a few small packaged wet wipes.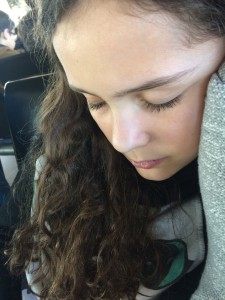 Today we have been in the Vancouver airport, the Edmonton airport (for several hours playing travel Clue at the Wayne Gretzky wine bar) the Amsterdam airport with a strange number of happy rat dogs in travel cases, and now – finally – Rome.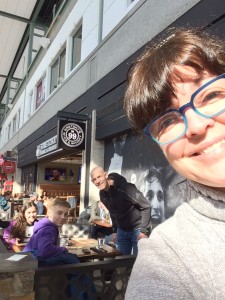 My step son has done remarkably well. He is a travelling pro with carefully packed snacks, handsome matching luggage, and a sleeping mask. He has so many stamps in his passport he could rival a Canadian ambassador. My fellow and I are both wearing that exhausted slightly forced smile. We talk exceedingly polite to one another because neither of us is testy, tired or irritable. Not at all. I get a very nice smile when I forget that our airbnb is in walking distance of Porta Furba, not Termini. I also get a very gentle suggestion that I can forget to put my phone on airplane mode and rack up an exorbitant phone bill if I wish to, but I will be paying for it myself.I out nice this by not arguing about getting a cab, instead of just turning around and taking the metro even though a cab takes longer and costs far more. Let's just – get – there.
We arrive at our airbnb. It is near the naval air field, no tourists in sight. It reminds me of the east side of Vancouver: a run down industrial area being reclaimed with some funky renovated homes. Our suite is immaculate and our host, Alessandro, is breezy and handsome. Nora falls asleep instantly on the bed with her jacket on. Fellow and son tromp around to get some breakfast things and I do a load of wash because the shampoo has exploded all over Scott's clothes in the backpack.
While closing my eyes for a quick nap, I hear the shouting of a gang of men. I think, in my delirious state, "Oh no…this area seems safe, is this is gang brawl?!" Then I hear whistles and think, "The police are breaking it up?" I roll over. I know just enough Italian to recognize a guy shouting, "we don't have all day!" Then I realize it's a soccer game! I look out my bedroom window and indeed, now that the sun has set, I see directly behind us is a soccer field all lit up. Ooh, me thinks we are going to get an early Saturday wake up call.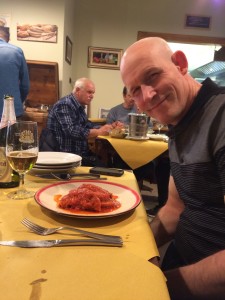 When the boys return we head to our local recommended restaurant, thanks to Alessandro, and we have some of the best pasta I've had in my life. IN MY LIFE. (relatives aside) If you're visiting Rome, it is definitely worth the trip out to the burbs. It's a nice big homey restaurant (though get reservations). Osteria Bonelli. You can find it on Trip Advisor, highly rated. The menu is written out on a chalk board, lots of options (though not for vegan or vegetarian) I had wild mushroom ravioli stuffed with burrata and it was beyond belief. The kids had hand rolled tender little gnocchi and Scott had a carbonara with crispy pork crackling. (The contorno was surprisingly not nearly as good. Lots of deep frying.) Go for the salads and the pasta. The desserts were lovely as well: home made gelato and I had a lime panna cotta and thought of my dear friend, Anita, who I did Italy with in 2014.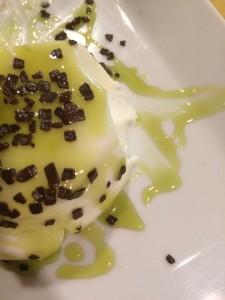 We wandered back home down the quiet well lit residential streets. Nora said, "oh my tummy is so happy". We fell into bed.
The next day we awoke to a breezy sunny day and … the soccer field is empty! I love how reasonable the Italians are. Games didn't start until noon.