We are bombing down a back road on the border of Basilicata somewhere between Palazzo San Gervasio and Altamura. Nunzio is playing my sister's CD (Eve Hell – Snake Oil) full blast for the fifth time straight. I brought it for him from Canada, at his request. He always turns it up during Blue Eyed Devil. His hands tap the steering wheel and he says this music reminds him of when he was nineteen and he can't stop moving his body. He says he's going to pass this CD onto a friend of his that arranges tours for bands. He can't promise anything but by God he's going to try. Antonietta whispers to me, "If there's one thing I can say about Nunzio, when he says he's going to do something, he does it. And then some." Tears start to stream down my face. My sister is a rare and magnificent powerhouse. To hear her being blasted though these hills, celebrated by my coolest cousin…this is something my dad would have done if he were still alive. It makes me want to shout YEAH YEAH YEAH YEAH with my head out the window.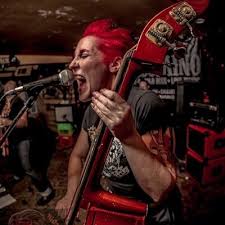 Earlier this morning, a cousin of my cousins, waited for me to finish my colazione before introducing his wife and his screenplay to me. I wish I had the sort of power and influence I think he thought I had in Hollywood. I hear the story is excellent. I look forward to the read.
The last two days have been a whirl wind. The day before yesterday, we left Rome at 5:30am and passed through Napoli on our way to Pompeii. I was running on exactly 2 hours of sleep because I was up all night sick over what I ate…but I slept on the train and felt pretty chipper strolling through the ancient city.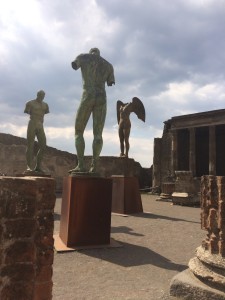 Within about ten minutes of arriving, dark storm clouds rolled over Vesuvius and before we got much into the site, rain started to pour down on our heads and wind kicked up dust, swirling it into our eyes. We scuttled into the ancient bath house and waited out the storm.
It was amazing to peer out at these 6th century BC buildings left unprotected from the elements. But of course, they've been standing for thousands of years so a little rain isn't going to do much damage.
We wandered past statues with immense erect "members of parliament". My daughter's eyes were large as saucers. I took her aside and said, "That is not life-sized, you know. That is some kind of happy God you're looking at. A real human would be more like – " I discretely measured out six inches. She nodded and said, "Yeah, I thought so."
The frescos were so vibrant, they were truly amazing. My favourite was one of a cupid sort of character riding a chariot pulled by fish.
We have seen many skeletons so far in Italy. More bodies were displayed here, encased in plaster in the position they were found. A man curled up in prayer, a woman languishing on her side, a child crouched, a dog tucked up tightly into a circle. I find it disrespectful to see them displayed.
I took a little break and sat out by wild rosemary bushes in bloom, underneath pomegranate trees out of season. Dried fruits hung on bare branches like broken Christmas bulbs.
What would it be like to be buried in hot lava? What if I was up on a hillside and knew my family was down below? I'd probably run towards it, not wanting my daughter to die alone. As if that would do either of us any good. There are two kinds of people in this world. The ones who run into the lava and the ones who don't. You know who they are. You can sense it. You can separate out your family and friends. And we need both in this world. We need both. If we all ran into the lava, we'd be dead as a civilization. If none of us ran into the lava, we'd be dead as a culture.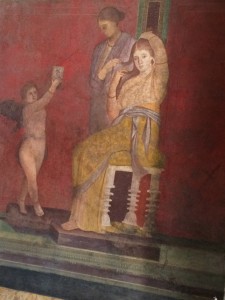 After Pompeii we dashed down a street near the train station in Napoli to get some pizza. We had hoped for more time, but fast food pizza in Napoli is better than good pizza anywhere else, so we were happy – though someday I must try the "real" thing.
My lack of sleep started to kick in when we were halfway to Caserta and stopped in Casoria. I shouted, "this is our stop!" In a panic we grabbed our bags and jumped off – saw that the last four letters were wrong and turned around just as the train was pulling away. So, to make our connection with Foggia, Scott hailed a cab.
Sheepish wife.
He was very kind about it though and didn't bring up the fact that my haste cost us an extra 30 euro and a bit of anxiety.
We made our connection with about five minutes to spare. Halfway to Foggia the train in front of us broke down so we were delayed for an hour and a half. When we finally arrived, we were greeted by my friend and translator, Antonietta, AND her boyfriend Dan, AND my cousin Nunzio AND my cousin Marco! Our town, Palazzo San Gervasio, is about an hour and a half drive from Foggia so for all four of them to come really touched my heart. I couldn't believe it.
Marco, my cousin, is a quiet and handsome man you just can't help but love. He has the very masculine square jawed look of the Frangione men. When I asked him about his new baby, he smiled proudly and showed me some pictures of her on his phone. Nunzio, his older brother, started joking around rapidly in Italian right away while driving and Antonietta just gave up trying to translate after a while. I pieced together what he was saying (I think) by understanding about every tenth word. Even if I didn't understand, he was still utterly engaging and made us laugh. My Italian is deplorable, still nearly non-existent, but I am understanding more this trip and Nunzio was impressed. He said, "You try! You try! Good!"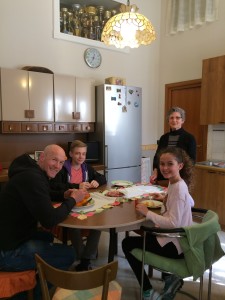 Antonietta is a wonder to me. She's a friend of the family and she has taken it upon herself to not only be tour guilde and trip planner but translator. She is a fireball: generous, witty, a tiny woman with a mass of gorgeous dark curls. She's listening to Nunzio, then translating for Nora, then explaining to Scott, then having a quick firm Italian conversation with her boyfriend – then whispering something to me about what is culturally appropriate – then throwing her head back for a big laugh. I love this woman.
When we arrived in Palazzo our first night, we were exhausted having been up since five and having tromped through Pompeii and many train stations. We dumped our stuff off at the BnB. I had ordered a one bedroom suite with a kitchenette. The owners decided the suite was too small for three beds so they put us in the loft suite with no kitchenette and three beds all side by side in one room with a small three panel screen between us and the kids. Scott's face made me giggle. No nooky Nick in this town. We went immediately to my Zia M and Zio P's house for a late dinner.
It was so good to see them. Zio P is 88 now, Zia M is ten years younger. He sat smiling at the end of the table and I was so happy to speak with him a bit more this trip. Zia M was full of affection and exclamations of love and joy and chiding us already over getting a BnB without their knowing. She served us her home made wine, dried pork sausage with fennel and her home made capicola. Unbelievably good. Lean, not greasy like in the deli.
Nunzio's wife was there, a warm and jovial spirit. Her family runs a great bakery and she brought pizza. We got to meet their three sons. These teenaged boys gave us all kisses on both cheeks, including Nora and my step-son, and I was entirely impressed with how they reciprocated without a bat of the eye. Zia M came over to our boy, a pretty self possessed quiet independent guy, and she wrapped her arms around his head and pinched his cheeks and kissed him again and said, "I can't help but show my affection, it is the way I am. You are such a handsome boy. You look like a Pollack."  (because he is fair) He blushed and smiled and nodded, very gracious. Nora tried out new Italian words all night, a charming little widget who also sat and listened closely to the conversation and translation. I was very proud of our kids, they were very gracious sitting there exhausted, for hours, in a room full of strangers speaking a different language.
We headed back to our suite, to our three beds like the three bears without a goldilocks, kissing Antonietta and Nunzio goodnight. Scott and I had another giggle when we crawled in and realized our "matrimonial bed" was actually two twins pushed together. So, even if we tried to get cozy, we'd fall right through to the floor.
Today, we had breakfast at a local taverna where a woman who is related somehow makes her own pastries. We got "in shit" because we came around 11am after most of the workers grabbed the baking before heading to the Fiat factory for their day shift. The "left over" pastries were absolutely delicious.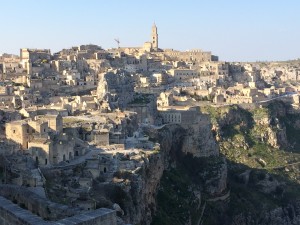 Nunzio, Dan and Antonietta took us to Matera, an ancient town, established around 3-4 century BC, where Mel Gibson filmed The Passion. The town overlooks a series of paleolithic caves where humans used to dwell. The town is astonishing and beautiful: homes made out of stone. It's a recent UNESCO world heritage site, largely due to its water collection system of terracotta drain pipes, cisterns and caves.
Along for the ride was a beauty of a niece my kid's age, she barely speaks a word of English. The three teens were almost entirely silent on the way to Matera and then started swapping words and using sign language and by the time we were heading home all three of them were animated. It was lovely to watch that unfold.
We went to a well known pastry shop in Matera and we were rather amused with the name of the prominent cream bun: nun boobs.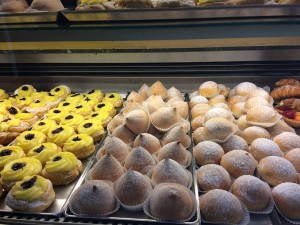 Then we headed to Altamura, the town my Zia M was born. It was my first time there too. By the time we got there the sun had set and the wind was whipping through the winding streets of downtown. We stepped into a marvellous church with a statue of the patron saint of carpenters. (she held tools in her arms) And we went to the hotel where Nunzio had his honeymoon. (I won't share that story!) They were giving away free cookbooks. This was in a part of the city that was protected by two big wooden gates and the streets were covered in large smooth tile-shaped stones that shone with the street lamps. It was gorgeous.
On our way out of town, we stopped at an Altamura cheese shop: caseificio Di Cecca.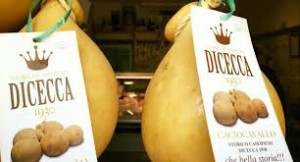 https://www.facebook.com/Caseificio-Dicecca-161760843882285/ One of the cheese-makers was there, a young fellow who spoke a bit of English. He was very proud of his wares and he should be. It's hands down, the best cheese I've had in my life. First I tried the sample: a kind of basil infused white cheese almost like a cheddar. Then he showed us his blue he makes himself, similar to a stilton but far smoother. Then he gave us a large sample of his pièce de résistance, a cheese similar to gorgonzola but milder, topped with cranberry. Near Christmas he does this cheese with fig and orange. I wanted to drop to my knees in ecstasy and I would have if I wasn't in mixed company. Then he dipped taralli in a blue tinged cream cheese he also makes himself, ooooh. Then he have us a sample of the bocconcini and some fresh today burrata.  Seriously, his samples were probably $30.00 worth of cheese. And he offered these up to us with complimentary red wine to taste. I've never experienced customer service like that. We bought a whole wheel of something and later we'll figure out how the heck to get it back to Canada.
We headed home and had another big meal at Zia M's and Zio P's. I have to admit, I was so full of cheese…but I did have the unique Stracciatella di bufala: a stretched out shredded sort of buffalo cheese. She made a lovely fresh salad and chicken cutlets and pasta arrabbiata. There we met up with Nunzio's sister, Ceciglia, and her son and husband. Ceciglia can't speak English either but she talks rapidly straight at me with utter determination and – I feel as though I SHOULD understand her! Haha. Ah well. I am getting better but I wish I knew more. I really kick myself. I love Ceciglia. She has always been dear to me, there is a special connection, even though we've only seen each other a couple of times and can't speak each other's language. There was much making fun of our BnB choice around the table, lots of laughter, the guys were jovial with Scott who was so good natured and joking back…
I am missing a million delicious details but some things are private, some things are difficult to translate and some things are lost in a haze of home made wine and dozy after dinner offerings of Nocce. I am swimming in happiness and love. My only worry is: how can I ever return this sort of incredible generosity? I have my few little "made in Canada" presents but that is a mouse compared to a mountain. I think I just have to admit I am being blessed, incredibly blessed, and just leave it at "grazie" and thank God.