My Zia M peels my husband his sixth orange. A dare. I've only seen a gorilla eat more citrus. Everyone laughs because the more she peels, the more he eats and it's one of the few moments that doesn't need to be translated. She's hung my laundry out on her deck to dry and somehow I manage to get the joke across that her neighbours will be thinking she's started wearing sheer lacy red panties. She swats me and throws back her head and laughs.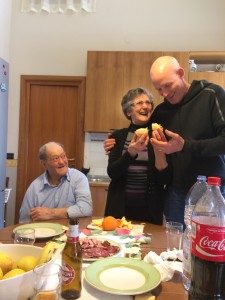 The town where my family lives is about nine hundred years old. It was the home of Norman princes, then Frederic II had the castle built up and he used it while hunting. Then King Manfred lived there. The town holds a big medieval feast once a year in his name with long picnic tables outside the abandoned castle: fire eaters, musicians, and townsfolk dressed up in costume. The town is built on the top of a hill and residents have a gorgeous view of the agricultural lands and the huge windmills that line the horizons of southern Italy now.
The population is about five thousand, just small enough for everyone to be in everyone's business. I have heard more gossip about people I don't know in these three short days than I have heard in my entire life about people I do know. Cars would slow down and people would peer at us, the outsiders. My step son had a phone conversation on the balcony of our hotel one night and our friend saw him while walking dogs! Haha! I really really don't ever want to know what people are saying about us right now.
It's bittersweet being here. Some family members who were recovering from severe health issues three years ago (the last time I saw them) now seem fairly stable. Their children seem to be thriving, their marriages have tenderness and laughter, and my two great uncles, now both in their late eighties, seem to be exactly the same. They are sitting at the heads of their tables, quiet, powerful and dignified, cracking a smile every once in a while when something is genuinely funny. My Zio P whips around town in a scooter over cobblestone streets, encouraging grandchildren to hitch a ride on his bumper. He stops and shoots the bull with his buddies in the piazza, sometimes his battery runs out so he shoots the bull some more while it recharges.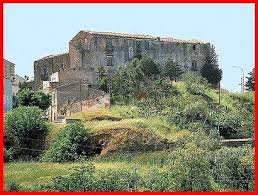 Some who seemed absolutely fine three years ago are now facing some serious health challenges. Tonight I met with one side of the family who has been hit very hard. They were all simply exhausted by it. Exhausting for any of them to engage in a translated conversation. I was so happy to see them though. God knows when we'll ever sit down together over a meal again.
My Zio M looks so much like my Nonna, it overwhelmed me for a minute, having lost her recently. I tried to cover my emotions up as quickly as I could and laugh it off and not be selfish in the face of everything else. But as I explained, "sono un marshmallow." We had some laughs and shared some news and introduced new spouses and children. Our step son was a big hit with Zia M who kept patting his cheeks and kissing him, calling him the "little blonde one".He took it very well for being a 13 year old who appreciates his personal space. (Today he said she was his favourite.)
We've spent two days here just poking around Palazzo and hanging out with family. I think we've all gained twenty pounds: home made sausages and dried hot peppers fried in oil, fresh ricotta, home made dried sausage, hand rolled lasagna, rapini, fresh mascapone pastries topped provocatively with marinated cherries…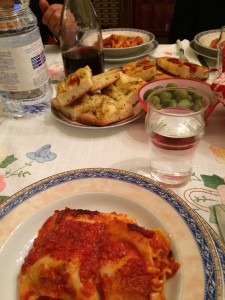 My dear cousin Cecilia introduced me to two local actresses who put on their own shows and it seems as if they're comedies about the town in the 1800s and they do it with the old dialect of that time. they also participate in the passion play done in Matera. This year they were the daughters of Israel who had their babies killed by Herod. They were a bit shy talking about their work but I said the problem with being a professional is, you end up doing your art largely for the wealthy. They're bringing art to the people and I respect that.
As I walked with Cecilia and one of the actresses and Antonietta up the streets past the old church, the town hugger came by for his third greeting of the morning. (He is a mentally challenged man around fifty years old, wearing a puff jacket and a floppy toque. I never knew his name, he was simply called the town hugger.) The actress put her arm around him and gave him a kiss and asked him when her birthday was. He told her, accurately. She said, "Half of my family can't remember that date, but he does." And she gave him another kiss.
I strolled through streets arm in arm with Antonietta and Cecilia after dropping off the actress. Antonietta has been up every morning and has stayed by my side until bed time to translate for us. She has done this every single day out of the kindness of her heart. I give her a gift, she gives me three. I try to pay her, forget it! She has been incredibly kind and it's been a joy to get to know her a bit better. She also helps me navigate the cultural things that I've never understood growing up. One thing I still don't understand is how to give back.
I got to see Marco's tractors (he's taken over working the fields of the family farm, about 55 acres of grains and vegetables) I poked through Zia M's cold storage and saw her dried and marinated peppers, maize, vats of olive oil, cans of tomatoes, bundles of garlic…I sipped espresso and listened to the ladies gossip in Italian, their rich rolling voices rising in volume, their hands flying passionately. We looked at the castello ruins and admired the old church and gazed out at the farming fields around us.
The teenagers nodded at our kids and took them out strolling around the town. "Hey, Eleanora! Hey Hyper!" (they kept mispronouncing my step son's name) Our children looked at us a bit panicked at first because the cousins don't speak a word of English, but they had their phones and google translate and out they went. To what I understand, the boys strolled around town kicking soccer balls and trading Instragram pictures and petting neighbourhood dogs and smiling shyly at cute girls. The girls downloaded songs and tried on make up and giggled over cute boys. They all came back in time for supper.
We had pizza because Zia had thrown a gargantuan gorgeous lunch of homemade lasagna. For dessert, Zio cut up a pineapple. The kids were still eating pizza at this time so Nora introduced them to "Hawaiian". They were aghast as she plunked the pineapple atop her artichoke and prosciutto fire oven pizzetta.
Our final morning there, my cousin, Nunzio, picked us up and drove us back to Foggia to the train station. Cecilia and her husband got up early Sunday morning to kiss us good-bye and dear Antonietta and her boyfriend came along for the ride. My family not only showered us with food and drink and entertainment the entire time we were here, but they showered us with gifts upon our departure and stuffed euros into the hands of our children. We were overwhelmed by their generosity. Cecilia shrugged, "When we come to Canada you do the same." But she's afraid of traveling by water and her husband hates traveling by air, so I said, "Sure, as if that's going to happen." Someone joked they could come by submarine. She shrugged again and said, "We are generous so that you will come back.."
For some reason, Nunzio is the easiest to understand without translation. Maybe it's because he speaks a little slower. Maybe it's because he's an artist and I can anticipate what he might be thinking a little better. He's a beautiful photographer who likes to capture things spontaneously. He told me he used to take pictures all the time in town around special occasions etc, until the locals started asking his wife to ask him to stop taking photos. (idiots) He's a gregarious generous party-loving man who gives and gives and gives until it hurts. When he dropped me off, he got very emotional, as did I. I love that guy. Ah. How I love that guy. As the train pulled away he placed his hand up to the window glass.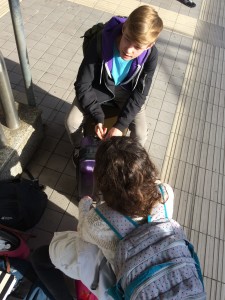 We chugged away to Pescara. I had hoped to climb the caves but I didn't realize they shut them down until April. Also, the luggage storage was under renovation. So, we had four hours to just hang out by the seaside with powdery soft sand, taking turns watching over the wheelies, which was actually quite nice. Down the main drag from the train station, heading towards the ocean, we found a cafe that served a lovely vegan and vegetarian lunch and hot chocolate so thick you could stand a spoon in it. Umbertos. Surprisingly good and kind to tourists.
Then we headed to Bologna. I had hoped to have a nice dinner there but our train was late so we shoved real pasta bolognese down our throats at the restaurant on the corner just in time to catch our connection to Venice. We finally arrived around midnight. Nora was dozing off to sleep, so I held her melon heavy head in my hands so it wouldn't bob. My step son was on his phone on the vaporetto while my husband checked directions. I looked out at Lido through the dark watery night. Having been to Venice before, I knew what I couldn't see and happiness spread through me like a good wood fire.
Scott had said earlier in the day, "We are seeing some of the world wonders, Rome, Venice, The Vatican, Florence, but I think the most vivid memories will be of your family. Because love is memorable." I thought of this and nodded to my reflection in the window of the boat. It is the greatest world wonder of all.