As we headed left towards the train station the kids instinctively made a sharp right and ran towards the sea. I decided in that second to pay attention to the sound of the waves and to forget about any kind of schedule.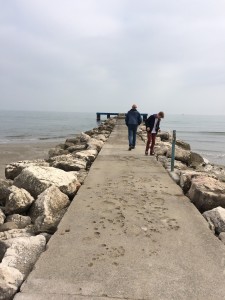 We chose to stay on the Lido instead of right in Venice. It added to the cost of transportation but we found a nice cheap two bedroom airbnb suite, right off the beach, with a well equipped kitchen, bikes, and it was super quiet. The sand was icing sugar tender and the seaside stretched as far as the eye could squint.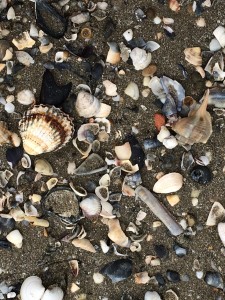 The Lido is so narrow you can throw a softball from beach to beach and it's mostly unhurried untouristy and residential. The kids combed the shore for unfamiliar sea shell shapes. One of them looked like a four inch fingernail.
They both managed to carefully collect six entirely different varieties each and stashed them along the path until we returned later in the evening.
The first day in Venice we slept in and we decided not to panic about our late start. We spent the day in Venice proper gawking at St Mark's square and roaming around the overpriced delicious leather and gallery shops. Nora was fascinated by the masks and tried on about a hundred. She agonized over her careful purchases for herself, her Dad and her friends.
Our boy made a tasteful purchase for his Mom and then carefully considered a leather case. The storekeeper was an elegant Italian woman with red lips and a sharp bob who spoke little English. He asked her among the candy coloured leather purses, "What is the most manly courier bag you have?" fearing anything that may cross over into the land of "murse". He made a distinguished choice which did not surprise me at all. He's a very handsome tall confident 13. I think if he wore a raw chicken on his head all the other kids at school would follow suit.
I spent the day trying to take better photographs (trying Sandra, trying!) but the only half decent one was our snack of pistachios while waiting for the boat.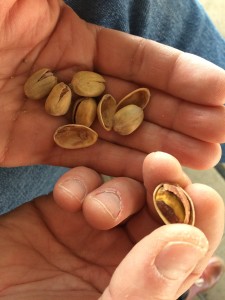 We ended up eating at Osteria al Masceron, my favourite restaurant from my trip with Anita in 2014, I hate to mention it to you in my blog because the owner asked me not to spread the word. Last time I came three years ago there were no tourists and this year it was full of them. Scott and I ordered a bottle of naturally fermented prosecco, entirely not the sharp sweet crap we get in Canada. It was divine. We had the owner's respect. But then Scott ordered a beer with his antipasti and the owner was disgusted with him. "Americani. You destroy the taste!"
We started with a delicious vegetarian antipasti then the boys had a kind of white lasagna, Nora had another bolognese and I decided to be adventurous and had the sardine pasta. Unfortunately, I discovered upon first whiff that I still hadn't recovered from the raw scampi "take out a second mortgage" dinner from Rome…but I tried to set it aside to enjoy the excellent primi. Then we ordered a second bottle of prosecco (I know, it was that good) and we had their famous panacotta with caramelized hazelnuts.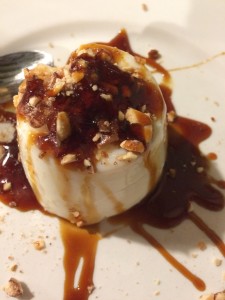 This won back the respect of the owner. He was a handsome man with wavy gray hair and lovely dimples and twinkling blue eyes. He came out and poured us another complimentary glass of prosecco (I know) and one for himself after we paid the handsome bill. We had a good chat. He was born in Venice from a long line of Venetians. He said the city was being bought up by overseas investors and properties were sitting empty. Many Venetians were moving out to the larger Italian cities that had more affordable real estate. We told him that sounded familiar.
We headed home on the vaporettos and the kids plucked their shells from their hiding places with glee, scrubbed them up in the sink and then flopped into bed, happy and exhausted.
The next day we were delighted to see the predicted rain was put on hold and we proceeded with our plan and headed from Lido to Burano. There weren't many tourists and we wandered along the canal and gazed at the beautiful brightly painted homes. I was on a mission to bring home some genuine "ricamo" tablecloths and was pleased to see things at an off season price. We wandered through a lace museum and caught some of the history of lace making on that island. We watched some little old Nonnas bent over their paper patterns and delicate white thread. I wished there was time to walk the entire island like I did last time, but we wanted to get to Murano as well.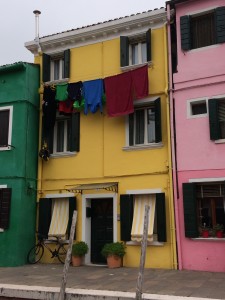 We caught Murano just as the shops were closing at six. All the glass blowers had pretty much packed up and gone home well before. That said, we were able to make the purchases we wanted. We did find one jewellery maker on a torch and Scott and I picked out a light for our kitchen on Bowen: our goal. We were so excited to see what we wanted we forgot to bargain with the artist. But we both agreed while walking home: she was a female Murano glassblower who ran her own contemporary studio in a pretty male dominated field. We don't mind giving her a few extra euros for her excellent craftsmanship.
We briefly touched down in Venice and headed back to the Lido in time to catch the market before it closed. I started to reach for a lemon and the grocer chided me like I was a pervert. "Don't touch! I touch!" Ah. In Lido, I am not allowed to molest the produce. Only he can fondle the food and put it into bags for me while I point and then pay.
I brought home our bridely vegetables, carried them over the threshold and then cradled them in my hands for the first time. I rather liked the respect they were given, to be honest. The potatoes still had earth on them. The arugula was bristling dark green. The romanesco broccoli was all gorgeous lime precoce. Its shape inspired a youtube investigation about Mandelbrot fractals while we munched our baked cannellini beans.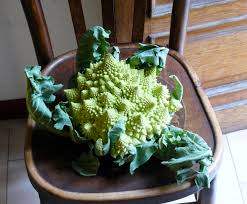 Our kids have spent two weeks straight together. And yet, this evening they elected to hang out in their bunk bed room and play crooners and sing along to the music. Scott and I raise our eyebrows at their retro choice and raise our eyebrows again when we hear both our kids sing together. A first.
They happily chatted away in their room about teenager things while I planned our transit for tomorrow and my husband caught up on political memes. These relaxed slow travel days are my favourite. I mustn't forget that.
It is now midnight and he is peeking at me from the privacy of our bedroom. I sign off all happy and bright, not caring at all right at the moment about royalties, casting calls, body fat ratio or land taxes. Buona notte. Goodnight.