As my eyes fluttered open from a post gelato afternoon nap, I heard the ubiquitous church bells of Italy joined gently by…yes…a choir of monks. Really? Monks are singing me awake? Really. Ridiculously perfect. I was dozing on the flat sunny rocks of Vernazza's beach. It was about twenty degrees with a slight breeze. A group of boys were kicking around a soccer ball in the tiny town square above me. They were surrounded by restaurant patios. This is the only flat surface in this jewel of a seaside town clinging to the side of a cliff. Waiters come out every once in a while to straighten chairs that the boys knock over with their ball. The boys shout out an apology and the waiters nod at them good natured. The game continues without pause.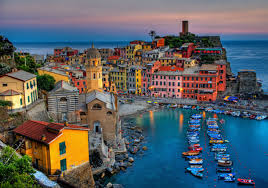 Beside me two local girls were building sand castles. They were using empty disposable cups from the overflowing garbage cans. The tourists have been through and now are mostly gone as the sun is setting. They leave behind their garbage and their euros stuffed safely in the cash boxes of tiny shops now closing up. The shopkeepers were tucking away their olive oil and pesto, lemon soaps and thin host-like pasta indicative of this region. They meticulously swept their porches and polished the glass in their windows. The train rumbled in and then screeched to a halt. Windows rattled. Trenitalia could invest in some WD40.
The sandcastle builders made the universal heaps of a fortress and some sort of moat, but they take time to carve delicate designs into the sides of their castello with discarded gelato spoons. In this small way I see that these children have grown up with a sense of art and culture and they take the time to make things beautiful. They don't just slap up a huge number of sand castle condos to conquer and claim the beach and then call it a day.
My husband was snoozing as well, his huge white legs sprawled across the stones as the tide came in. A giant in Lilliput. Our kids were hopping along the shoreline; their heads bent towards each other in conversation. This has been a perfect day.
We started out in Florence around 8:30am and missed our train to Pisa. Luckily, there was a milk run right after and TrenItalia let us change without cost, just a finger wag. We arrived in Monterosso around noon but we didn't let this deter us. We slung back a swig of water each and headed straight for the path towards Vernazza. This is an absolutely gorgeous 5km hike up the cliff sides past lemon orchards and olive groves, overlooking the sea. It was a good work out but not overtly strenuous. On the path we met up with Jai: a handsome young Indian man who looked like a movie star. He was here from New York, worked for Price Waterhouse, and he joined our family for the majority of the day. He had a delicious English accent and perfect hair and I don't think he broke a sweat once. Me, on the other hand…let's just say I went at my own pace.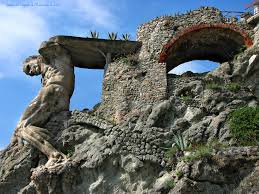 I had hiked this path in 2014 with a bunch of girlfriends coming the opposite direction. I remember my friend Michelle's laughter ping ponging off the cliff face as she chatted happily with Anita and Erin. Now my daughter Nora was the chit chatter, joyously skipping over the little rock bridges and snapping pictures of the twinkling azure Mediterranean and the cliff side cactus and wild calla lilies. My step son leapt up steep steps effortless as a mountain goat, chatting with Jai, photo ready. My husband kindly waited for me at wide junctures, taking the time to small talk with hikers as they passed us.
Vernazza appeared in about three hours, a welcome sight. I hobbled down the step stairs into town with wobbly legs and we wandered up to a pub and had pesto gnocchi and anchovy pizza.  I had a "real" mimosa with fresh squeezed sicilian oranges and local prosecco. THIS is what it is supposed to taste like. (the complimentary brunch Mimosa at the MGM grand in Vegas…not so much…)
After lunch we wandered down to the beach and skipped rocks and dipped our toes into the sea. We said good-bye to our new friend. Jai was going to do a sunset hike to the next town. Oh the energy of the twenty-something. What they can do with a hostel night's sleep and a baguette and chunk of cheese.
After he left, we fell asleep.
Once awake, Nora wandered over and said, "This is definitely one of my favourite days." Our boy nodded in agreement. We hopped the train back to Monterosso and wandered along that beach. We collected beautiful smooth red stones and admired the "Gigante" carved into a cliff, holding up a restaurant patio.  Then we had a small taverna supper at sunset and took the train home at nine.
What I didn't notice until we were on was that I accidentally booked our return for the next day. I tried to explain to Salvatore the ticket man that it was simply a mistake I made while ordering on the internet and that all our other tickets were for today. He kept insisting in Italian and then calculated forty euros. I kept piecing together my Italian  and then finally said, "mistake, mistake, internet" to which he completely mocked me with silly typing actions and said, "No internet! Ma!" And strode away. Heh heh, but we didn't have to pay.
That night Scott rubbed my poor little feet and it elicited deep groans from our bedroom. I suddenly realized that I should be clear about what was going on and I cried out, "Oh my feet, thank you for the FOOT MASSAGE, that is SO MUCH BETTER. Can I offer you A FOOT MASSAGE in return?!"
The next day we had an early morning tour with Paola from Walks inside Florence. I didn't realize it was the same exact tour I did in 2014 with Karen and Anita, but there are worse things than seeing the David and the Venus de Milo twice.The kids were tired. Nora kept rubbing her eyes and H retreated into his hoodie. I sympathized, it's been a big couple of days.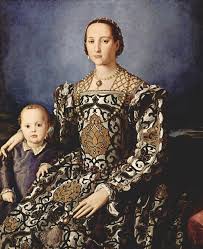 We saw the Riccardi palace, we walked past Il Duomo and the baptistry and then whipped through the Accademia to see David and the "unfinished" and then spend the majority of our time in the Uffizi. I don't know that I recommend a tour, actually. We felt rushed and because there is a significant walk between the museums and a long line up even for those who have reserved we didn't feel the value was as good as the Roman tours and it wasn't our guide's fault. It's just the layout.
I was glad I did a bit of research on Cosimo Medici and Eleonora of Toledo. It was a good focal point to see their homes, statues, portraits and 11 kids and to hear about their love for each other and their tragic end. It gave significance and context to the art subjects they were drawn to. I found it interesting that they allowed themselves to be depicted as the Magi in some works.  We were lucky to see the newly restored and unfinished Leonardo Da Vinci's Adoration of the Magi. I also really loved taking some time in the Caravaggio room. I loved seeing Bacchus' dirty finger nails. I imagined he peeled himself some figs and his hands were still sticky. i was also struck by how many Madonna and child images included baby cousin John.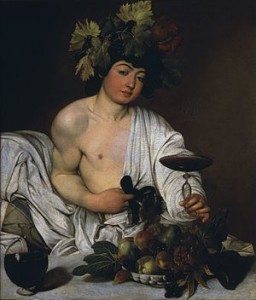 My feet were screaming after five hours of museum tromping so after we went for a so-so gelato I headed home and the kids and Scott went out hoping to scale the Il Duomo. They found beer and chocolate instead.
Then we headed to Osteria Cinghiale Bianco to try the infamous Tuscan wild boar. (thank you David Neufeld!) It's actually not so wild anymore, they farm them, so it's not gamey at all, just a lean delicious pork. It was fantastic! I ordered a small carafe of chianti and without blinking an eye the waiter poured our 13 year old a full glass and our 11 year old a half glass. They were quite impressed with that. We did a cheers, had a few sips, then it all got poured back into Mama's safe keeping, thank you very much. We weren't going to order dessert until we saw the profiteroles piled up with mascapone cream and chocolate sauce. We ordered a plate of five and it disappeared like a t-bone in a tank of piranhas. We ordered another plate and – same thing. Wow. Nora literally bounced off the walls all the way back to the Uffizi square.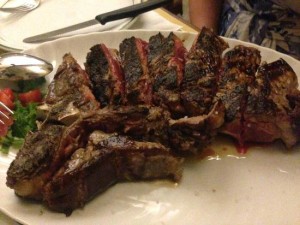 There, the kids succumbed to the shillers who were selling laser beam pens and these slingshot neon light flying thingies. Scott and I admired the statues in the Loggia dei Lanzi by night. The rape of the Sabine women was gorgeous in the moonlight and looked more like an erotic dance rather than a horrific violent assault. I walked away with mixed feelings. I stared into the beautiful eyes of the newly decapitated Medusa sprawled seductively under Perseus' magnificent legs. She agreed.
It's overwhelming to take in all the beauty and horror and history and richness of Firenze. I've been here three times now and I've barely seen the tip of the iceberg. Tomorrow we head back to Rome for our last day in Italy. I don't feel ready to leave.