I cannot look at the Christ and his sacred heart. All I can see is Tina Turner shot in the chest.
So, I focus on the fresh birds of paradise, calla lilies, tulips and day lilies beautifully arranged around his feet. This metaphor is more symbiotic with my sense of Jesus.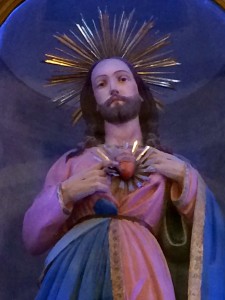 A little church lady was scuttling around caring for the flowers when I peeked into the San Gennaro chiesa.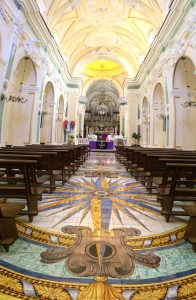 I was drawn in by the magnificence and could not help but utter a deep loud WOW.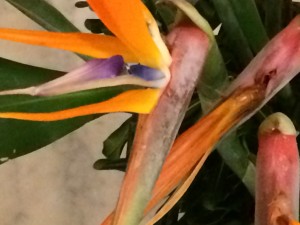 The uniqueness of this church is the inclusion of ceramic art, famous in these parts. The floors are all gorgeous hand painted tiles and the idols are porcelain dolls with fabric clothes.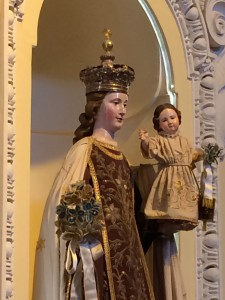 I knelt down in the congregation to pray when the little church lady interrupted me with a whisper and a beckoning hand, "Cristo! Cristo!" Ah. In the little side chapel there is the Christ and padded chairs and magnificent fresh flowers. She thinks this is a better place for my contemplation. "Allora". I whisper back, "Magnifico", "Grazie", and headed towards poor Tina. She scuttled off and left me alone in the large vibrant cathedral.
Here I am. Staring at the lilies. They smell like weddings and they smell like funerals. I begin my prayer.
"Dear Lord, I thank you so much for the-"
"stop eating soft cheese."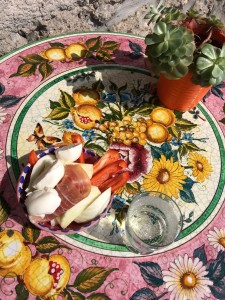 This is how my God speaks to me. Blunt. I know exactly why God has asked me to stop eating soft cheese, it makes me sleepy and I have work to do. God adds:
"I find your guilt repugnant."
This is also how my God speaks to me. With perfect words like repugnant.
"Okay…you're right. God, I would like to thank you for – "
"Listen, I give you a gift, take it. You are my beloved. Things won't always be easy. When you go through a hard time in the future you can say to yourself, "Yes but I had a month in Italy"
True.
"You've been a faithful servant. You're a good mother."
My God also surprises me by saying things I wasn't even thinking about but feeling and fearing deep down. t shed a few soft cheesy tears.
"I said you're a good mother. Now cut it out. You just took your children to Italy and you love both of them. And you're a pretty good wife."
Yes. I am quite sure God said, "cut it out" and "pretty good wife". For a second I wonder why I only get a C+ for spousing but I don't question it.
"Thank you, thank you."
"Now, get down to the sea before it gets too hot for those stairs."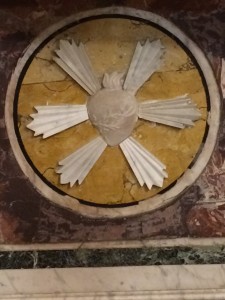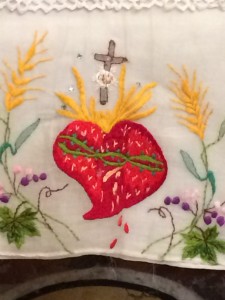 Before I leave, I tour the rest of the chapels. The sacred heart of Christ is captured in stone and in cloth.
There is a Joan of Arc character (I think) or perhaps a warrior Mary, stepping on the back of a little devil's bum. The devil is definitely a devil of colour, complete with a wee devil afro, whereas she is porcelain white. I find this repugnant.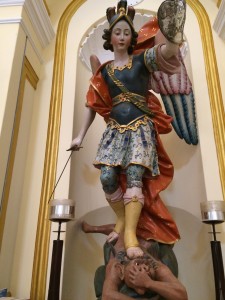 Being from Vancouver, I certainly hear a lot of racism directed towards Asians but not black people. I'm sure it's out there, I just don't hear it. Here in Italy, perhaps with the proximity to Africa and the immigration that happens, there seems to be quite a bit of trouble with racism. A lot of graffiti says "no immigrati!" When I was in Palazzo, a program came on TV about an African tribe and someone hissed and said something about "brutta…nazione" and looked away. I've seen people cross the street and avoid taking bus seats. So, whenever I come across a person of colour in Italy, I am particularly smiley and kind, sensing that they get shit on quite regularly.
I come across the statue of San Gennaro himself. (St Gerard) He has a bucket full of children beside him and a woman holding an embroidered handkerchief.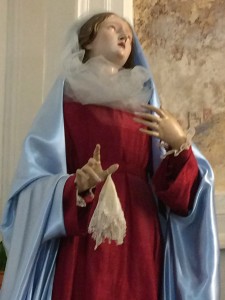 This encouraged me to do some "what the heck?!" research. Apparently one of his miracles in the mid eighteen century was: he dropped a handkerchief and a woman picked it up for him. He said, "keep it, you will need it later". A while later she was dying in child birth and she grabbed the handkerchief and she miraculously recovered and birthed a healthy child.
He had several other miracles regarding feeding the poor and looking out for children. He dropped the bishop's key down the well once and he sent the "bambino" (the christ child statue) down the well in the bucket to get it, and indeed, the bambino had the key in his hand when the bucket was drawn. Where IS that handy little bambino when I lose my car keys?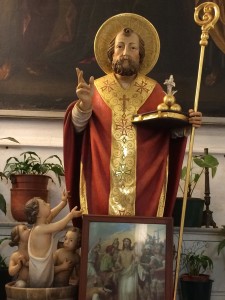 I head down to the ocean for my walk. Praiano is high up on a cliff, a small town just past Positano, so getting to the beach is quite the incline. But the pathway from the church is a gentle zigzag path through villas, homes and fancy inns. Lovely whimsical porcelain art is everywhere. Little fancy tiles on the ground, sardines being eaten by larger fish pressed into the rock faces of the walls.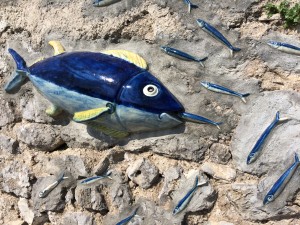 Everyone's street address is listed on a hand painted tile. I was particularly pleased with the cuttle fish trapping dinner with his wild moustachio.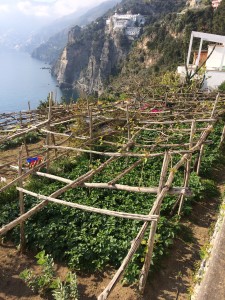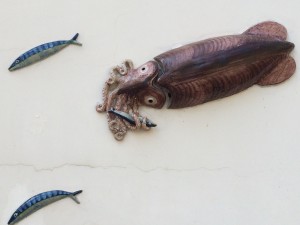 I wandered along a gorgeous cliff side garden with a wooden grape trellis shading the artichoke plants. A Nonno and his toddler grandson were taking a walk through the scented garden, full of flowers. I am sure they were both wearing linen. Honestly. I am such a SLOB compared to these people. All the paths, all the streets, all the gardens and houses and shops, are immaculate.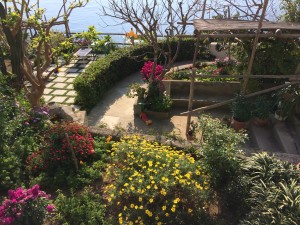 When I finally got to the ocean, I had the entire beach to myself. I guess tourists aren't quite here yet and the Italians think 20 degrees is far too cold for swimming. Lucky me! I stared up at the sky and God said one word to me.
"Bask."
So, I did. I basked in the Glory.