On my way into Vancouver a little red vespa pulls up in front of me. A man in his sixties is driving and he has one of those cool brown leather helmets. When his pants hitch up, they reveal beautiful bright blue striped socks. I want to yell out the window, "your socks give me joy!" Everything is winking at me today, who am I kidding? I just drove over the magnificent Lion's Gate Bridge and through Stanley park all lush and green and sprinkled with young people who all seem to be laughing.
The little girl beside me (I've brought Nora's friend over from Bowen) is excitedly listing off all the rides she's already been to at the PNE in the past, which food truck is the best, and what she hopes to accomplish today with her unlimited play pass. She's a great kid on this side of Mocking Bird's Scout. We've already covered all the drama she experienced unfairly in grade six and her hopes for grade seven, her cat, her dog, her baby brother and what her parents do for a living. I drive along Pacific Avenue with its warm sprawling beaches filled with sandy bummed tourists drinking iced coffees, sailboats bobbing out in the bay. How can anyone help but feel like a channel for sunshine today? How can anyone not beam?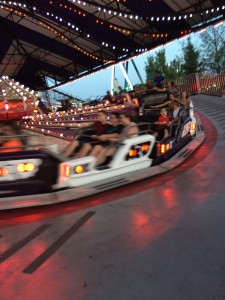 A U-haul pulls up beside me, the smallest model of a cube van they build. A woman is driving. She is the smallest model of a woman they build. She is about thirty three. Her hair is pulled back in a perfunctory pony tail and half of her eyelash extensions have fallen out. How do I know this? I am not that close to see. But I can sense it. Lashes don't stay on eyes that deeply sad. Scout is kicking her legs and laughing over the exhilarating memory of going on the "Hell-evator". This little woman in the cube van is in the background in sharp contrast. She is not feeling the thrill of her free fall drop right now, only the hell. All the birds can chirp. all the boats can unfurl their sails, all the best looking men can cycle by with thighs as thick as tree trunks and it would not buoy her up.
I'm guessing it's a break up. What is it she can't imagine right now? Finding love again? Finding someone before she's too old to have a child? Did she just get laid off from her dream job? Or is she dealing with her parent's estate, clearing out the family home because Mom just died of cancer? Or…maybe it's nothing like that at all. Maybe she was an NHL player's arm candy and he caught her cheating on him with a right wing and now she has to give up the lavish lifestyle and join the rest of us stiffs and get a job? Oh yeah. She's moving from West Vancouver to a Surrey basement suite on her grandfather's blueberry farm. She is anticipating lectures from her father, babysitting her sister-in-law's snotty screaming children, vacuuming because Mom has a bad back, dealing with her younger sister always borrowing her nude heels and wrecking them, her only escape being her old retail job at Guilford town centre.
That would make me lose my eyelashes too.
"Lucia, the light is green!" pipes up Scout. Scout tells me she used to be a biter, and people on the island just can't seem to let that go. I love this kid so much.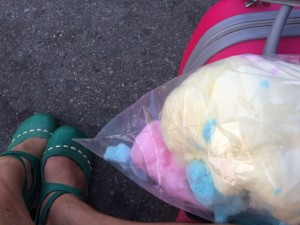 We pick up Nora at her Dad's. First Nora shows Scout her room, her cat, her fabulous father and all his paintings. "Woah, you're REALLY good" says Scout. "Like, I would BUY this!" Nora's Dad chuckles warmly, "Why thank you very much."
We head to the PNE to watch Nora dance on the festival stage with the tap company, sweat pouring down their sweet faces in the heat.
The girls giggle and jump on all the rides they can fit into the evening, their faces painted with unicorns and their fingers sticky with cotton candy. I hobble behind them with my blistered feet and stare up at a horrific two armed monstrosity called the Salt and Pepper shaker.
I used to go on all the rides, terrified and screaming, taking up any dare. But now I just don't need to. I don't want to. Nobody can make me. I don't care to invite that kind of excitement into my life anymore. It costs so much and is over before I know it, leaving me wanting more. No. I like the solid ground. I don't need to nearly die to feel alive. I've found much more thrill in being grounded.
Of course, I'm not just thinking about rides anymore…
I ponder this for a while and try a glob of blue cotton candy.
Mistake.
I think of my girl in the cube van. I whisper to her from a sticky curb by the pirate ship, "When you're sick of it, get off the ride. There are great joys to come from being firmly planted on the earth."