I have decided to contact a theatre every single day and tell them about my writing. This is terrifying for me. I would rather people just mysterious "hear" about my work, all across the world, and spontaneously produce it. I an not afraid of the word "no", I am not afraid of criticism, I am afraid of being a nuisance. Isn't that stupid?!
I started with Bob in Manitoba because he's a very warm and generous man and he likes me and he's done two of my plays already and he produces a lot of female playwrights. His line up is always at least 50/50. The overall stats for Canada are still 30/70. We had a good long chat about theatre and what he was up to. He was very encouraging and asked me to send both new scripts. But the nerves…all I could do the rest of the day was can 60lbs of roma tomatoes.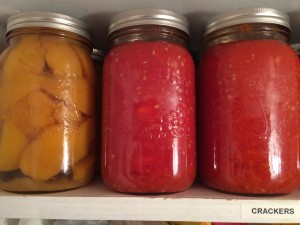 Today I contacted someone I only met once. I sort of chickened out by writing an email instead of cold  calling. Oh, don't make me phone. Don't make me hear that tired exasperated "Oh GOD it's a PLAYWRIGHT" voice from an over-worked AD who is madly trying to cast that play with people of colour in his remote rather caucasian corner of Canada. The courage it took to write this email alone exhausted me. I had to fire roast 24 bell peppers and make home-made catsup. My brain was fried.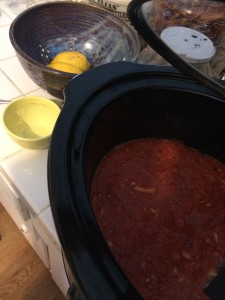 Perhaps tomorrow I'll be bold and call Australia. I wonder what polite annoyance sounds like with that accent? I should get my husband to pick up 20lbs of pears. I'll definitely need to do more processing. Our pantry is going to be ready for the apocalypse. Maybe that's why my response is stocking up the larder. Calling people trying to market my work certainly makes me feel like I'll never work again.
I'm onto homemade salsa now. The recipe is from a blog by a woman named something like Madison White. She looks exactly like that pastel cardigan nude lipstick slight bouffant middle aged woman I always go up for in Hallmark movies of the week. Wow. Women from Wisconsin actually look like that, it isn't just on TV. She claims to have the BEST SALSA RECIPE EVER!!!!!!!!!!!! Yes, never mind all you Mexicans, Madison has you conquered. You lose. She wins. She has THE BEST. So, why am I doing her recipe? Because of the pretty pictures.
Each jar I put in my pressure canner, I whisper to myself, "This is the BEST SALSA RECIPE EVER!!!" and then snort with derision. Imagine having the audacity to claim you have the BEST? I have a very funny fast paced murder mystery and a very "now" sexy four hander romance to sell, but I would never say they are the BEST. Maybe I should. Maybe I should call up South Africa and say I HAVE THE BEST 8 HANDER MURDER MYSTERY AND 4 HANDER ROMANCE EVER!!!!!!!!! I wonder if it would work? I wonder if it would help to send pretty pictures?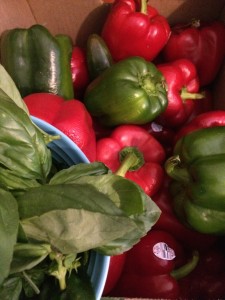 I know it's a gender thing for me. I was brought up to be modest, demure, to be looked at and not heard. There's much of me that rebelled successfully against that but not when it comes to a deep down belief that I SHOULD be heard. I still feel so…so embarrassed to even write that. I don't know how people without a spiritual sort of mission or social justice mission do it. The way I talk myself out from under the rock is to say to myself, "Well, if the Spirit prompts me to write this, then someone out there needs to hear it, it has nothing to do with me, really." I could never just rely on my talent alone. I couldn't just call someone up and say, "Hey, I've written something smart witty and sexy, you will want it, all you have to do is read it."
It's rather sad, but I have to actually tell myself, "Lucia, if you were a man…you'd pick up the phone." I hope the next generation, I hope my daughter, never has to say that to herself. Even writing about this, my heart is pounding and I want to have a piece of chocolate.
I am part of a playwright pod: a magnificent group of local playwrights. We all get together and read scenes and give each other feedback, or not. I love it. But one of the members said he felt the urgency to write as much as he can now because nobody wants to hear from a writer over the age of sixty.
So, I guess we all have our fears. I have no fear of age. I think I'm only going to get better and more audacious. I'm going to be that crazy Nonna Lucia who writes wildly and weirdly. Kids out of college will want to do my scripts at the fringe. Yeah. And I'll show up with my long white braids and red boots and delight them by saying fuck a lot and having whiskey in my coffee. Yup. That's what I'm aiming for. I wonder if by then I will have given up on Australia or perhaps by then I will have been produced in every English speaking country in the world – give or take Antiqua…who knows.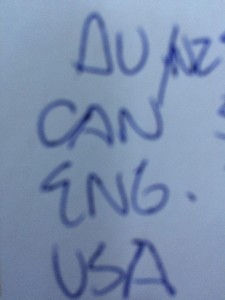 And then about twenty years after that when all my contemporaries are retired or dead, my work will no longer be produced or even known by the next generation. Fifty years after that it will be in the public domain but no longer available anywhere. Not even my grand daughter's book shelf. All my words will scatter in the wind, undone into random letters, returning to the great expansive A to Z.
Well, when I get all "Ecclesiastes" about it…..the phone call doesn't seem so frightening.