It's a rare comfort to be able to order the same omelette from the same waiter and sit in the same booth for twenty three years. Paul's is humming with old timers at 8am and I greet my 1306 with eager glee. I eat the twist of orange first and warm my hands around the cup of coffee. I chuckle over my rye swirl.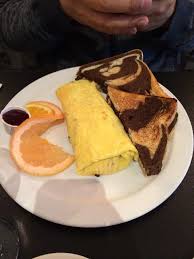 I think I first came here with Michelle and Don and Rod – maybe even Cheryl. We would have been a good looking bunch of youngsters back in the 90s: Michelle with her wild blonde tangle of ringlets and Rod with his broody dark Heathcliffian looks. Cheryl would have just become a doctor in her sassy black boots. And Don was mostly a carpenter who wouldn't likely believe you if you told him he'd end up on Broadway.
I sigh when I think of myself sitting among them. I would have been…26. Long west coast frizzy ringlets. Trying to dress all MEC, pretending I liked camping. I had just been denied a student loan to finish theatre school and I was wondering how on earth I was going to carve out a career in this city. I was about five years younger than the rest of these cats and I was always racing to catch up to their worldliness and cool.
I remember being proud that I managed to order the best thing on the menu at least.
i smile now, spreading jam on my toast. "Well nerd girl, you're still ordering the same thing and today you're rehearsing Misery at the Arts Club without finishing theatre school and without MEC".
I finish off my second piece of toast though…and contemplate New Years resolutions. I used to resolve to eat better and exercise so I could look good. Now I resolve to eat better and exercise so I don't die. I decide to make a modest but achievable goal for 2018.
I will strengthen…my right leg.
Good.
Done.
I look at my bound play script all dog eared and high "lit" in pink. Don was the first person I knew who bound his play scripts, all proud and neat, spending the little extra bit of money at Kinkos up the street. I've done it ever since. That little nod to taking myself seriously. It's his birthday this week. Right. Interesting what bits of life people leave with you. Michelle introduced me to Miso. That sort of thing. I just got a letter from Rod a few days ago and talked to Cheryl this morning about this play I'm doing and my character's psychology.
Good company I keep.
I wonder what all our new years resolutions were over the years, us five. What dreams were beating then in those young hearts? What was being tossed around over excellent eggs and coffee? Are we pleased with where we ended up? Two working actors, a doctor, a lawyer, a nurse. Pretty good. Pretty good indeed for a bunch of bed headed punks out for something to eat.