Rick is in his Rav, all sharp and salt and pepper this crisp early morning. He matches the landscape. He drives with the precision of a great stage manager. I feel entirely safe. As we glide along the foggy Coquihalla, he asks me what my favourite shows have been over the years. Between the two of us we reminiscence all shiny eyed about the transcendent moments of the past: creative new plays, amazing designs, powerful performances…the best of besotted theatre geeks. This is why he is so damn good at his job. He simply loves it. Loves it. It's always invigorating and inspiring to come across a true believer, especially one that isn't jaded after doing it for forty years. I've always liked working with Rick, but now spending a bit of time with him personally, I like him even more.
At some point after the Merritt Starbucks, heading now towards Vernon, the snow gets heavy and all goose down duvet. Snow balls are piled high on each fence post. They look like a line of snowy owls standing at attention, military stoic. Trees bow low with their heavy loads of white, like ghostly Madonnas bending to coo over their babes in the bluster of fog and ice. It's breath-taking.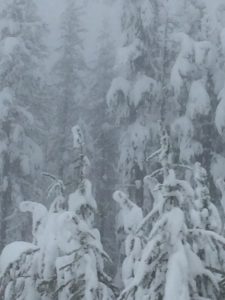 I've never been to Vernon I don't think. I don't know anyone here. It will be a quick lonely hotel over-nighter in wine country off season.
Oh but wait…my step brother lives near by, the artist, Jerry Markham! Right! Our parents married after we were both out of the house so we never hung out in any sort of family fashion. I've met up with him and his beautiful wife Leah a couple of times with Mom and Stan at their house during seasonal visits and that's about it. I've always really liked them: a generous warm ridiculously good looking couple who love to laugh. My parents told me Jerry and Leah booked tickets ages ago to my show so I wrote and asked them if they'd like to meet for dinner the night before.
Another person I've met briefly but don't really know is my friend's friend, Lisa. Instead of staying at a hotel, I thought this might be a great excuse to get to know a cool family a little better so I called them up and asked them if I could stay over in exchange for some free tickets and a bottle of vino. So, this entire Vernon trip is now becoming about me getting to know great people better. It's not often I step out of my social comfort zone and impose a closer friendship. I was a bit shy about it, but it's always worth the plunge.
Rick drops me off at the Vernon Village Green mall to while away a few hours before anyone's around to connect with me. This is a dangerous thing to do. I find all sorts of things to buy with my per diem that I don't really realize I need until I see them. I get a present for Anita who is looking after my daughter and my dog. It's hard to find a friend who would be willing to wake up at 3am with the old mutt but Anita just said it was a great opportunity to catch the blood blue moon in its full glory.
As I am wandering past the Body Shop and Fido…I see…Larry?! I've known Larry since I was in high school! He ended up dating and marrying my high school best friend, Cheryl. I have tried to get a hold of Cheryl a few times in the past eight years but they avoid internet and they move around a lot because he's a builder, so they were easily lost to me. I screech out his name and his eyebrows fly up and we embrace. What serendipity! I have the feeling that Larry is not the sort of man to stroll through a mall for kicks. I know I haven't seen him in years but some things don't change. He would likely be getting his butt in and out of a place like this as fast as humanly possible, achieving the specific goal in mind. No Suzy Shier soft serve florescent lit ten percent off sign up for membership must have spring colours for him. I suspect he's still a sufferer of no fools outdoors kinda genuine guy looking for a decent phone plan. That is all. So, it's pretty amazing to cross paths. He assures me Cheryl will call as soon as she's off work. His beautiful daughter Lindsey looks on a bit bewildered. Who is the hysterically affectionate woman who knows my Mom and Dad?
What a gift!
I move along…waiting for Cheryl's call…and find a mall hair salon (perfect) and get my hair trimmed up again to Annie Wilkes proportions: dreadful short bangs and an unflattering shapeless bob.
When Jerry and Leah pick me up for dinner, I catch Jerry looking at my hair quizzically. He's a visual artist after all. I say, "I cut my hair for my character, this wouldn't be my choice" and he laughs heartily, "I wondered why in the world you would do that to yourself!"
We sit down to dinner at a very lovely Italian restaurant Leah chose: Intermezzo. I say to Jerry, "you're still staring at my hair, it's awful isn't it?", he chuckles again, busted. he says something along the lines of it being like a car accident, he can't look away. The food is terrific and the local wine is juicy and big. We talk about theatre and we talk about art. Leah and Jerry travel around to various gallery showings and such because he does very well. Jerry Markham I found it all very fascinating, the collectors, the process, the guessing what will sell and what won't…I was wondering if we would run out of things to talk about, being fairly new to each other, but not at all. We made good sport of our parents moving to Delburne for a while. Who moves to Delburne? Even if you don't know Delburne you can tell by the name exactly what sort of little rural town it is. We can tease our parents because they're pretty damn happy. You don't tease unhappy parents. They've actually moved from gorgeous Invermere to – Delburne – (no adjective required) to be close to family as they're all getting older and Mom and Stan can be there for those who need their help. A sacrifice. They loved it in the mountains but they were far away from their aging siblings. We talk about this a bit. It gives us pause. The kind of pause that comes with recognizing something deeply good.
Jerry and Leah kindly drop me off at Lisa's. Again, I'm a little nervous, having audaciously invited myself to stay over. Nerves are quickly assuaged as I am warmly welcomed by the whole family. I have just caught bedtime prayer (an entire family event) and then I'm whisked into the kitchen with a cat curled up on my lap, a beautiful glass of wine in front of me, and Lisa's bright smiling face across from me, offering me olives diced with peppers. I don't need anything more to eat or drink but it's all nibbled away at deliciously anyway as we chat giddily like girls rather non-stop about parenting, art, cooking, God and the importance of really good foot wear. I sleep downstairs in her office. She's a counsellor and often works with children so it's a curiosity of things around my bed: paints, toys, bowling pins, and a log filed with nails that one may hammer into if they felt the need.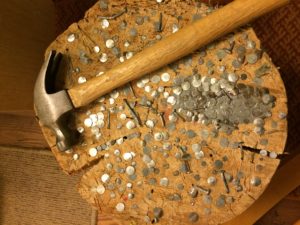 As I get ready for bed I think about a Ted talk I watched this week about longevity. it had something to do with long life being linked to not being isolated but having community. In particular, having friends or family who would be there for you in your time of need.
I fall asleep under a down duvet in this room for healing.
The next day is a whirl wind of wonderful things. Lisa takes me on a windy gorgeous walk along Kalamalka Lake. She strides athletically in her Blundstones and her most excellent toque and points out her favourite tree. It's all bendy having grown against some odds. I trip along in borrowed boots and my red dress coat, my scarf all "babooshka" and billowing around my ears. Then we hit up a great shoe store and a European clothing shop and I get a most excellent navy wrap dress, now firmly in my element. She shares with me some aspects of her practice: powerful and fascinating. She is very good at what she does I bet. Her eyes shine with passion and intensity when she speaks.
She drops me off to have lunch with Cheryl at Earls. This is perfect because Cheryl was the first person to introduce me to Earls when it first opened in Red Deer about 1986. We'd hang there after hockey games with our hockey hair, wearing long sweaters and stirrup pants, channeling Pat Benatar. I had never even heard of guacamole before that, let alone ever tasted an avocado. And here she is, the girl with golden hair I recognize immediately. We don't meet up that often but when we do it's like no time has passed. We catch up on the joys and tragedies of loving people and raising a family. They're actually in the "house of Job" right now…hit after hit…so we feel that our chance meeting was definitely God directed. A gift. A reminder that the roots of love stretch far and wider than one might see at first, that one might think.
She drops me off to Lisa's where I need a nap and some alone time. Upstairs the kids are playing piano and planning a Star Wars birthday party. I could tell the minute I walked through the door that this family limits screen time. Their kids actually have social skills and an imagination.
After a delicious light meal I head to the Vernon arts centre to do the show. I inject the spirit of impishness into my character: the humorous edge of Annie being my actor exploration for this week. It's a house of nearly six hundred people and they're all out for a good time. It's quite something to play to a house this large, like going from riding a pony to an elephant. "Woah, Betsy, hold on!"
I see Cheryl for a few more precious hours after the show for a drink and then it's off to bed and out the door early in the morning. My ride back with Rick is quieter. Comfortable silence as we both pass snowy mountains and day dream our dreams. I think of Cheryl in her most excellent garden, letting her plants mature to seed and propagating her own and how that leads to healthier plants that grow faster and produce more fruit. Inspiring.
Once I get home I hit the road running with cleaning and groceries and dog walking. I whip up dinner then head over to Michael's with some food. He's had a knee operation and Nora's been helping him around the house. While I'm there cleaning out the fridge, another friend drops by with three meals. Michael's a jovial social guy. He's well loved. He has nurtured a strong community. The guy is going to live forever, give or take a titanium joint.
He smiles from the sofa, leg up on ice. "Well, thanks so much for coming over and doing all of this." (I've barely done anything)
"I'll be by tomorrow morning with soup and bread and then in the evening with dinner."
"That's too much!"
"Michael, we're family. You're stuck with me."
He jokes, "I bet Scott didn't realize when he married you that he would be getting a husband-in-law."
Ah, he can make me laugh. I give him a kiss on the head and Nora a squeeze and drive back to my house thinking about my own dirty fridge. But I also think about when my Dad was sick for all those years and Nonna took him in and every single day he'd be surrounded by family: brothers, sisters, nephews, nieces. Ten years he was cared for. Community doesn't just take giving but also receiving. It's hard for me to invite myself to Lisa's, to ask Anita to look after my kid and my dog, to "impose". But I hope they know they can now ask that of me. The give and take. And so it goes. We knit together and feel safe to grow old.