At many Vancouver gatherings, members are greeted with a welcome and an acknowledgment that the city sits on Coast Salish traditional land: unceded territory of the Musqueam, Squamish and Tsleil-Waututh First Nations. I find it respectful and a good reminder. Dan says it every morning at church. But before our children's show the other day, our host said something along the lines of "We'd like to acknowledge that the city is on the unceded land of the – Sawlish…native…I can never remember this stuff." And moved on. Backstage we were a bit aghast and chuckled, "yeah, basically all you red folk out there…" And Raugi said, "I think the host just effectively undid all the good that was intended with that speech."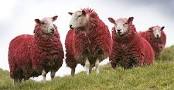 She did a little better today but called the Musqueam the Mc Squeams. You know. The Scottish First Nations mix? Sort of like Metis but with red hair. This week the host has also announced BC Hydro as one of the funders of the festival and followed it with, "as much as I hate to acknowledge them" and called the theatre Boca del Lucia instead of Boca del Lupo, which lead to a few jokes in the wings about how I could earn more than the equity minimum with a show about my mouth. Lupo, Lucia, it's all the same right? That Italian stuff.
During the play (Big Bad) there's a section I wrote where the mother of Little Red Riding Hood talks about wolves and sheep, how it's "graaaand to be a sheep" but we also have to learn how to protect ourselves if the sheep dog isn't around. The mother turns to the audience and says, "Some of us are white sheep, some of us are brown sheep and some of us are black sheep" When she said it today, the kids went "oooooooooohhhh" at the mention of black sheep as though the mother had just said something inappropriate. It reminded me of Nora coming home from school this week, wondering if the term "black" was racist. I hesitated when I said "no", because it really depends how it is said and when it is said and…maybe things have changed?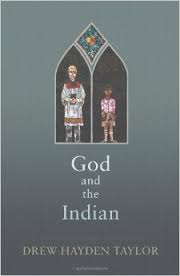 Two nights ago I went to see God and the Indian, by Drew Hayden Taylor. Not only did it star my dear friend, Lisa C. Ravensbergen, but Drew is one of my favourite Canadian playwrights. He's Ojibwe from Curve Lake and he's written dozens of plays about the Aboriginal experience. This one is about abuse in residential schools. A pretty hard pill to swallow for evening entertainment but Drew always writes a well balanced argument, he's funny as hell, and it's important subject matter to witness.
While I was waiting in the lobby to see the show, I was reading some display panels about residential school history in Canada. A First Nationsl man came flying through the lobby, yelling, "I don't want to see this fucking play about my dead family. My family is dead, okay? Okay?! Where are they? They're dead! And I'm not gonna sit through this with people like HER in the audience." To my surprise I realized he meant me. He jutted his chin out and stared at me, hatefully, then stormed off. His blonde girlfriend quietly pleaded with him, trailing behind, saying, "Why don't we just see. Why don't we just go in and see what it is all about." But he was having none of it.
"People like her". What did he see? My white skin? My privilege? My bad skirt? My skinned knee? My Mc Squeams?
I sat in an audience that was far too small for a Friday night. A line of First Nations women were sitting in front of me with dangly earrings and long shiny black glorious hair. It's not often I am aware of being caucasian. Mostly I feel exotic because of my Italian name. But let's be honest: the only things people racially assume about me is that I am a good lover and I can cook. And they're right.
My friend gave a detailed and thoughtful performance, very physically alive. I learned a few things tonight, but mostly I felt I was bearing witness out of respect: acknowledging the travesties.
We had a great conversation backstage about art, about diverse casting, about a few debates we've both had lately in our community. Some conversations have been healthy and informative like a thread that Diane Roberts started this week about awards ceremonies and unconscious bias. (she is a freelance artist and the former AD of Urban Ink and has contributed a great deal to the diversity awareness in Canada) Some conversations aren't so intelligent or respectful and get nasty: two sides not listening to the other. I suspect, being a prominent artist in Canada and First Nations, Lisa would get drawn into these conversations a lot. "Yes". She says something serene and tired. I joke with her, "Lisa, whenever you talk about diversity, you should get paid at least sixty bucks an hour. Nobody should be able to converse with you about it without paying. You're a professional. You've been consulted since you were old enough to string a sentence together." She laughs in that big hearted way she has, dimples deep as ravines.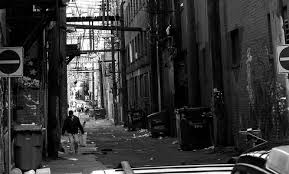 After the show, she walks me to my car near Cordova and Main. "I used to be brave" I say. "But now when I am alone at night walking in this neighbourhood my teeth start to ache." She hums understandingly, knowing what I'm referencing. We pass a lurching man, sweat running down his bare chest. We pass a car with a John most obviously picking up some boca. We pass a stumbling muttering junkie.
Once we get to my shiny little mini, I say: "Why don't you let me drive you to your car?" She waves me off, "Oh no, it feels good to walk."  I watch her amble off in that swingy athletic way she has. She is dressed in light colours and she glows under the street lamp.  I follow behind her, pretending I am not, but totally am. Her statistics aren't as good as mine.