As we wheel our wheelies over cobblestone streets we come to a big wooden door a few blocks behind the Uffizi, "16". A little lady hears us coming and waves us in.
"Lucia?"
"Si."
"Giovanni's Mama."
"Allora."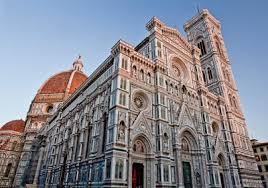 Giovanni has the airbnb and his Mom is taking care of the check in. She leads us up three flights of ancient stairs and opens up the complicated suite door to AHHHHHH. Bright airy eighteen foot ceilings, a full kitchen and living room with two pull out beds, an elegant master bedroom with an antique bureau and desk, and a huge regal bathroom. He has set out little easter chocolates for the kids in the centre of the table and a bottle of Toscana chianti for us.
This gorgeous central one bedroom apartment that sleeps four is under a hundred dollars Canadian a night, including city tax. I highly recommend airbnb for families traveling Italy. We've done this the whole trip and the homes have been clean, well equipped and comfortable.https://www.airbnb.ca/rooms/14812758 (Though across the board, the Italian airbnbs don't seem to believe in face cloths, so bring your own.)
When we left the Lido this morning, the kids and Scott went for a lovely seaside bike ride while I elected to finish the laundry and tidy up the suite and make a picnic. I was sad to miss out on that experience but I knew if I didn't stay behind and do the grunt work, the others wouldn't be able to go. This is my third time to Venice so…don't feel too badly for me. We then took a series of boats and then the train to Firenze.
The last time I was in Firenze with my girlfriends, I had a terrific bistecca with house chianti and a torta crema so amazing I had to hunt it down to find it again. I had spoken of it so often to my husband, he was also bound and determined to experience this steak as big as his head. Sadly, however, I packed the wrong business card that I had saved from three years ago (another restaurant more expensive and not as memorable) So, I contacted Karen and appealed to her Dutch nature, and she furtively spent twenty minutes on google searching: Rick Steves, wood paneling, bistecca – and she found it! Now that's a friend.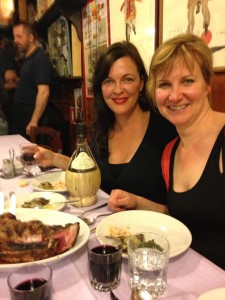 Oh how I love you, del Fagioli on Corso dei Tintori. They couldn't take us until 9pm but in Italy that's an entirely normal time to eat dinner.
So, Scott and I wandered out and got a few groceries for the morning while the kids set up their corners of their room, lining up their books and devices and shoes in symmetric shapes. Then we all cleaned up and headed out to find this mythical place of gastronomic delight. Once located, we finished out our wait by stopping in a bar (with the kids) and Scott enjoyed some Italian artigianale beer across the street.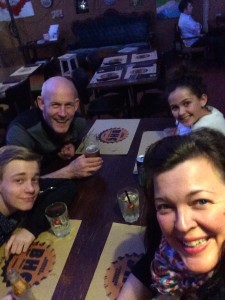 Everywhere we have gone in Italy the children have been offered a taste of the wine. In Rome they even poured the kids their own glasses of prosecco and limoncello, and not small ones either. So, by the time we got to this beer house, our young fellow sipped his Dad's lager and with an experienced nod, gave it his mild approval. "not bad".
When we finally got into del Fagioli, we waited at the door a bit and two handsome young chefs peeked at me from their brick window with a sly grin, and then provocatively tossed plates forward for the servers like they were frisbees. They knew exactly what they were about to do to me.
We ordered the house red and the antipasti they recommended:  a fresh bruschetta and then some kind of baked tomato based spread with soaked croutons that was absolutely amazing. Then we had the famous dish: bistecca, with the four sides: baked artichokes, roasted potatoes, white beans and sautéed spinach. They bring out a slab of prime rib about four inches think for our approval then cook it medium rare and cut it away from the bone on a single plate for the family to share.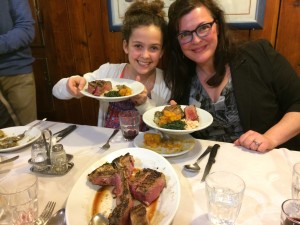 Then we ordered the homemade torta. There was a lemon apple one and a chocolate one and a plain torta crema. I had remembered the plain torta crema as a spiritual experience, and indeed, I saw the face of God again.
The kids enjoyed the adulterated versions and good for them. I didn't want them near mine.
The whole meal was so beautifully prepared, so earthy and simple and delicious, I was filled with great happiness. We all were. We just grinned at each other from across the table. AH. To learn how to cook like that. Wow. The meal cost what we expected a fine three course meal to cost with drinks and it was worth every euro.
We wandered back home along the snaky dark streets, past looming massive ornate churches and shadowy naked statues nude and cold without the sun. The kids made up their beds and my husband and I tucked in to our beautiful bedroom.
We only have a week left and we are spending the entire week in Firenze. I wonder what will come of it? Firenze has simply overwhelmed me in the past: all the art, all the tourists, all the Medicis astride their arrogant horses and set in bronze and stone. What will we do tomorrow? I haven't a clue. And that is all rather wonderful.