From what I have gleaned in the past three weeks I can confidently say I see no evidence that Italians believe in fluffy towels, breakfast, or the right of way for pedestrians. Nobody seems to be afraid of heights, concerned about cholesterol or trying to actively avoid motor vehicle accidents. I have yet to meet someone who is poorly dressed. Even the beggar ladies have an eye for colour. I have not missed Costco, Starbucks, bacon, peanut butter, soy product, bad ice-cream, or the current US president's pinched and petulant face plastered everywhere. I am really enjoying the local markets, cappuccino bars, prosciutto, gelato, hazelnuts and public art.
Our last day in Italy was spent traveling from Firenze to Roma. Our game of choice on the trains has been Risk. Nora is clearly the most competitive and she seems to always target Scott and he absolutely deserves it. The boy has to be cajoled into playing, he could care less. He builds up his men in one place quietly then wipes out everyone, dominating the entire world at least half the time. They call me the "pie lady", because I act all sweet and innocent to hide my ruthlessness. Just like my Mom, just like Gramma Bunny, some things are in the genes.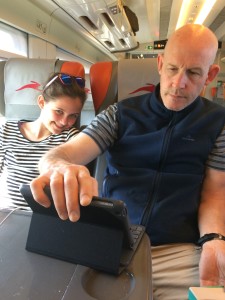 We lugged our wheelies around train stations and metro tunnels and along residential streets under construction and over flowing with garbage. I think mail delivery and trash disposal comes once a month. While traveling my husband asked me, "why don't you stay?"
"What?"
"Why don't you stay in Italy another week or so. Most of the expense is just getting here, you have some travel points, the kids are with the other parents and I'm working, stay."
"I can't possibly do that."
"Yes you can."
"What about the suite?"
"I'll do it."
"I have a few commitments."
"I think you should stay here and write."
"I don't…I don't…"
"You don't what?"
"Deserve it."
"No, you don't deserve it. Not if you don't write something amazing."
"No pressure."
"Do it."
"But-"
"Do it."
Once we got to our BnB I had about an hour to investigate all the possibilities and sure enough – the travel points worked -it was cheap to stay.
"Honey, our reservations are for 7:30pm for dinner…"
Okay, so I picked the place I wanted to be in Italy for the next ten days HOLY MOSES TEN DAYS MORE IN ITALY. If I stay with family I won't get a thing done. I love the Cinque Terre but I wonder if I should try something new? Maria liked the Amalfi coast…I quickly googled the Amalfi and got a breakdown of the personalities of the little towns along the sea and decided to pick Praiano because it has a nice beach and it's "quiet". I quickly went on airbnb and found an adorable apartment with a kitchen and a stunning view and a red leather sofa and BOOM – a whole new trip was planned in about an hour.
I was filled with a tremendous sense of….guilt.
The family headed back to our favourite restaurant in Rome, la Taverna del Grano. It's the one in the cistern/balcksmith shop that dates back pre-Christ.
https://www.facebook.com/LaTavernadelGranoRistorante/?ref=page_internal
When we arrived the owner greeted us with a kiss and thanked me for the trip advisor review and for returning. I think we were the only tourists who came in the past two weeks so that's how she knew who I was. She poured us all prosecco, even the kids, which is something that no longer surprises them. Then we had some fabulous risotto and home made pasta, a variety of bruschetta and bistecca with veggies. Then we went down to the cistern pub – so cool – and had an aperitif. Again the kids got a little tiny flute of prosecco. On our way home the kids goofed and giggled the whole way, making alarming flatulence sounds with their palms pressed against their mouths. i'm sure the locals thought, "oh, those poor Canadians, the cuisine isn't agreeing with their systems…"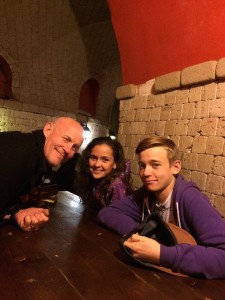 The evening was a quick repack and then an early morning rush to the airport and a hurried kiss good-bye. They were gone. I was left in the airport all on my own with a list of apology emails to write for broken commitments and an address I had no clear notion of how to get to. I knew I had to get to Napoli first, at the very least, and then work out a series of busses and/or ferries.
I boarded for Napoli and a pack of rowdy middle aged women were in my carrozza. I pressed the button to let myself into their party and they looked up at me, displeased, eying my tired face and my Fluevog shoes. I rolled my suitcase through them and there was a huge silver mammoth case right in the middle of the aisle. I waited for a bit. Nobody was going to move that suitcase so I had to haul mine over top of it and I muttered loudly, "Madonna" and gave it a little kick to the side. I sat down and one blonde lady in the pack glared at me while muttering something unkind about tourists in Neapolitan to her pal. I sat on my purse and closed my eyes. Go ahead, slit my throat and steal my wallet, I'm really too tired to care.
By the time I reach Napoli my airbnb host has given me the quickest route to Praiana, so I take the commuter train past Pompeii to Sorrento. I stand for a good hour of this ride, pressed against locals and a huge gaggle of Japanese tourists who seem to be in a very good mood. I listen closely to the Japanese guide like I've been doing for the past three weeks. I catch myself. It doesn't matter how closely I listen, I'm not going to find any latin there to link to my English. There is no way in hell I'm ever going to understand what he's saying. He's a handsome young guy, snapping his bubble gum and making the old ladies with their sun hats chortle. I asked the lady beside me, "Pompeii?" She shook her head at me in silent protest and a smile. She's not going to even try to communicate. And why should she? The host is far more entertaining and far better looking.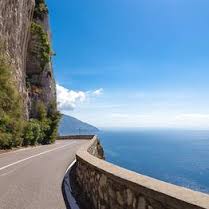 I finally got to Sorrento and immediately hopped on the Amalfi bus for another hour's ride. Again, I had to stand. The Amalfi bus ride was one of the most terrifying transit experiences of my entire life. We drove on what seemed like single lane roads with oncoming traffic, scooters, cyclists and pedestrians all sharing the road. Sorrento to Positano is the same slender snake, but it's along the cliffs way way way way way above the ocean. When I looked over the side when making hairpin turns, I could literally see nothing underneath me except a steep drop to rocky ocean. I didn't take a picture because I was too afraid to look. I got my stop wrong, called it too early, and when I gently asked the bus driver for confirmation, "Praiano?"
He YELLED – YELLED! MAMA MIA!!!!!!!!!!!!! 
And followed it with a string of Italian words. He screeched the bus back into traffic, sending me stumbling backwards. Apparently Praiano is still half an hour away. When Praiano did come up, he YELLED- YELLED! PRAIANO!
And followed it with a string of Italian words. He screeched to a halt, sending me stumbling forwards.
As I got off the bus, trying not to throw up, he grinned wolfishly at me, handsome beggar, and said, "buon viaggio" with a friendly tip of his hat. I barely got off the last step and the bus roared away with a line of Fiats behind it, all waiting.
My lovely host, Claudia, greeted me, a tiny woman with sea blue eyes and excellent brown leather boots tucked around her tiny ankles. She gently pointed her finger around in a circle, letting me know where the good eats were, the beaches, the church, the grocery store. Then she lead me up a steep flight of stairs, offering to take my bag. I said no, considering it was as heavy as she was. I let her take my purse and I humped my little wheelie monster up the stairs.
I arrived early so her mother was just finishing up cleaning the suite and called out "cinque minuti" . Claudia sat me down at my large patio overlooking the hazy sea with a view of Positano (which I still couldn't look at, give me a day) and her quiet gracious Dad, like an angel from heaven, whisked down from his suite upstairs and presented me with a Campari and orange aperitif. Their graciousness and the beauty before me and the fatigue got the better of me and tears just leaked out of my eyes. I had to take off my glasses. I said, "I am overwhelmed by the loveliness and I'm so glad to be here, thank you."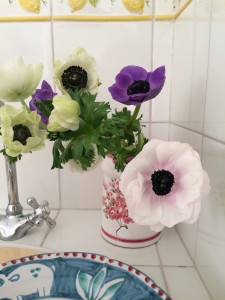 The suite was spacious with a bright yellow and white kitchen filled with local porcelain dishes and tiles and a bouquet of anemones from their garden. The living room had a little table for writing and a cozy little red leather sofa to die for. The bedroom had a decent queen mattress and all the rooms had big windows with gorgeous wood shutters, all overlooking the sea. They left me in paradise but not in peace.
The first thing I did was turn off the TV with an Italian game show chirping away. But I could not turn off the traffic outside. We are right up from the treacherous highway that got me here and it is nonstop cars and trucks beeping around the hairpin turns to announce their arrival. I flopped down on my bed and just laughed. So much for a quiet getaway! I'll have to settle for drop dead gorgeous instead.
I first did laundry and hung my socks all Zia Maria style on the iron rails. Then I had a shower and a nap before strolling into town. I looked at the beautiful and unique church and then contemplated the five thousand steps down to the beach and then said, "nah" and went and got groceries instead.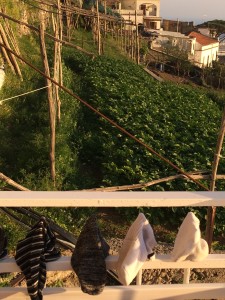 The grocery store owner was a puffy pouty blonde with huge boobs and manly eyebrows. She was reading some celebrity magazine when I wandered in at the end of her day. I cheerfully said, "Buonasera"! Silence. Okay.
I did my rounds of the two aisles and got some suspicious looking tube that said something about tooth whitening that I hoped was toothpaste. Then I delighted over the blood oranges, the rapini bundles, baby zucchini and pointy ended tomatoes, gorgeous garlics and the tender pears. There was a nice looking Frascati for 8 Euro that I couldn't pass up and some rounds of cheese. I peered in a strange looking cooler thingie and saw some chicken. I called out, with a bit of trepidation, "Scusi, Señora, Io ha Pollo?" She looked at me like I just asked her if her grandfather was a carp. But I wanted supper. So I said again, pointing, "Pollo. Grazie."
She got up from her chair, put down her mag and strolled over. She clocked how many groceries I was buying and her mood improved. She decided to actually make verbal contact.
"Pollo?! Where."
"Si. Right there."
"Ah. This."
She pointed at the flat of meat.
"Si."
She gave me a funny grin that I couldn't quite comprehend and said rather good naturedly, "Pollo! Allora."
When I got home with all my goods I realized what her smile was about. She just sold me coniglio with all its organs included. Don't see that every day in Safeway. Well, the jokes on her. I love rabbit. I cooked it up in my little kitchen with some penne and rapini and roasted tomatoes. Ah. Can't say as it feels good to cook again, but it does feel good to eat homemade meals again.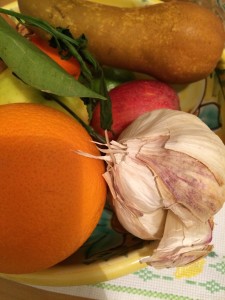 I've caught up to now.
I sit out on my magnificent balcony with a glass of Frascati and watch the sky turn pink as the sun sets behind Capri. I still feel guilty for being here. I worry about my students, my church group I am disappointing by rescheduling a writing workshop, my daughter flying without me, my old dog in the care of someone who doesn't care about him (because Scott has to work long hours) the bunnies, the gecko, my BnB guests. But Scott said he had it. So, I have to trust him. It's just a lot. But this was his idea.
I had this similar sense of guilt when I got married. "I don't deserve this." It's some kind of poverty mentality based on the idea of humility I guess, and also an awareness that I have so much when those in the world around me have so little. And who wants to be the recipient of the twisted horn of envy? Not me. But that's cowardly and doesn't accomplish anything.
I know people who feel they deserve to be happy, deserve to have a great job, deserve love, deserve plenty. I can't get my head around that at all. That kind of entitlement. I think of whoever it is out in their yacht in front of me, twinkling in the dusk. I think of Eleonora of Toledo sitting for that Bronzino portrait in her magnificent embroidered dress covered in pearls. Did she ever feel guilty? She was one of the richest and most powerful women in the world in the mid sixteenth century. I think of the Medicis being painted as the magi by Gozzoli. Quite the statement of political power, spiritual influence and wealth. Arrogant? Or a metaphor that is rather true? They did set some impressive riches at the foot of Christ: Michelangelo, da Vinci, Raphael, Botticelli, Galileo, …
Anyway, I am too weary from travel to put this together in any sort of profound way. But I will return back to what Scott said. It isn't about deserving. This opportunity to spend some alone time in an inspiring and secluded environment is a gift. It is up to me to appreciate it fully, be thankful, and use my time wisely. I will. But I miss my family already.