It is 5am and I am up to walk my old dog. Not bad. My clock is only off by two hours. I slip on my sandals and they still have sand in them from Gavitella beach. The moon is high in the sky as old Tartuffe and I stroll around sleepy Little Italy. I am delighted to see that tulips are just coming out now, the cherry blossoms are in full matrimony and the rhodos haven't popped. My children are sleeping. I am tempted to peek at them both, having missed them muchly. But being teens, this isn't the thing to do anymore.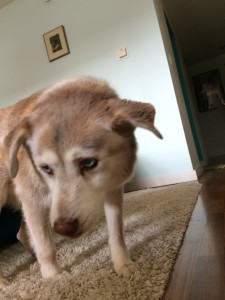 Mom. Ew. Creep much?
So I peek at my husband instead. His big warm arm cradling the lucky pillow. I open the fridge to find some almond milk to heat up and I'm overwhelmed by the blue cheese we bought shrink wrapped in Altamura, opened last night.
I haven't written about the last three days because they were marred with a migraine. An inglorious end to a glorious month in Italy. The migraine began while I was on the crowded commuter train between Sorrento and Napoli, my bags knocking against my knees. And I know some people use migraine lightly, I'm not talking about a headache, I'm talking "can't see out of my eyes, can't think, gonna scream, gonna throw up, gonna jump out the window" migraine with no meds in sight. Doors opened at S. Giovanni and who walked in? Why, a three piece accordion band. It's at these precise moments that I believe in Satan: an actual malevolent creature who cooks up torture for fun. As I hung my head and tried not to weep, I felt that sudden "pour three slightly beaten eggs into the bowl" feeling and oh no oh no! In walks my "Aunt" to greet me, a few days earlier than our anticipated appointment. She is on the train, in all her glory, flowy and showy for all the passengers to see, wearing red that is more suitable to someone who is sixteen. Ridiculously revealing. There is no way for me to hide her.
Forgive me, I don't usually write about "relatives", but Auntie really dominated my day and I am sure as I write, many of you women are chuckling with sympathy. I pushed past the accordion players who thought I was up to tip them. I slammed my hip against the rails as we rattled around a curve. I caused a little old whiskery man with a cane to look up in fright over his newspaper and exclaim with white hoary flying eyebrows, "Mama Mia!"
I finally found the washroom in order to have a proper conversation with Auntie and get her under control. But the washroom was filthy, and I discovered far far far too late there was no paper and no other means of reparation. This is so unusual for me, to have an empty purse, but I was thrown off by the extra ten days of travel. My Aunt laughed. "Ha, I'm not so easy to get rid of!" In my state of delirious pain I grabbed an old airline ticket from my pocket and slide its slightly laminated self around, making things worse. She giggled, "It's a crime scene! It's a crime scene!" I had to use my hand. Dear God. A discovery worse than "no paper" was "no water" in the sink. There was nothing I could do. Nothing. Auntie said, "You know, this would never happen to Karen or Lisa or Cheryl or Anita or any one of your friends because they are grown ups." I wiped my hands on the inside of my jeans, a finger painting, and put them back on and walked out. In less than half an hour I had gone from "well put together lady" to "filthy stinking irrational animal."
I sat down again. My head was throbbing so badly I considered bashing my brains against the metal hand rail. My next airbnb host in Roma had given me about five options on how to get to his place and all those bus tram and train lines knotted like a ball of wool in my head. In my addled state I didn't understand a single one of them, even after reading the directions out of my one eye about five times. Auntie smirked, "screw it, take a cab". Yeah. Because she's made of money. I I typed back, slowly, with one foul finger, "you pick. best way. for woman with bag." Auntie pouted, "I hope by bag you don't mean me." My host, Massimiliano (isn't that a great name?) wrote back, "I will drive. Wait at Termini at Benetton." This usually meant a rip off where the host will charge me 30$ euro plus another 5$ euro for my bags. F it. I don't care. Just get me to a shower and a bed.
I arrived in Roma termini, finally, and found the proper facilities at the station. This is all a blur because the pain was so great. And it was a rush. There wasn't time to change, the train had been late. I trotted painfully with my carry-on bag wrapped on top of my heavy carry-on suitcase and clutched a scarf I dug out of my bag to hang elegantly at crotch length, that delicate art of coverage without getting the tassels caught between my legs as I wheeled around looking frantically for our meeting place: The United Colours of Benetton. Auntie shouted, "my favourite colour is red!" The handles on my carry on bag ripped off and sent my technology flying. Passengers stepped over my plug adapters and cords as I gathered them up, now openly moaning in pain.
I looked up and there he was, Massimiliano (Max). Just what I expected. An impeccably dressed well groomed hygienic and  handsome young Italian man with great shoes and a tasteful murse. I prayed to God I was in no way odiferous and that he wouldn't notice my Aunt was with me. I don't remember much, I was in such pain. And for some reason I didn't want to burden him with the knowledge of my migraine as it seemed embarrassingly linked to my Aunt, so I didn't mention the need for medication. I think back now and wonder what the heck I was thinking but I was by no means rational. So he proceeded to kindly give me a little tour of the neighbourhood showing me the restaurants, the tram, the bus, the best coffee, the best gelato. I prayed my Aunt would leave no mark on his seat.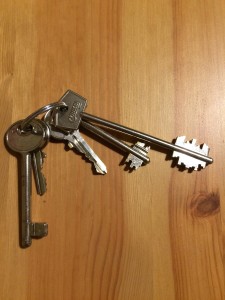 He let me into his beautiful little apartment with a wizard worthy collection of marvellous keys. It was all high ceilings and white and absolutely lovely. Surgically clean. Max arranged my taxi for the next day and refused any sort of payment for picking me up at the train station, which was a good hour out of his day. He was an angel. (He and his boyfriend have three suites they rent out.) He even left  me a bottle of water and a bottle of wine before he breezed away. I sunk to my knees. "Thank you God I made it". I showered and dried down with the first fluffy towel I'd come across in the entire country. I soaked my clothes and then gingerly crawled like a baby into the big soft bed with thick stiff cotton sheets. I thought to myself…"such…lovely…light…fixtures…" then thankfully fell asleep.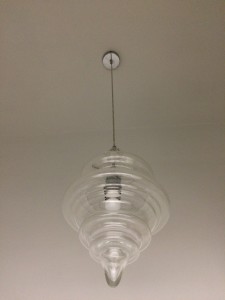 When I woke up, the migraine had diminished into a manageable headache so I decided to go out and try to find a pharmacy and something to eat for my last night in Roma. All the stores were closed, now eight, but I did find a restaurant named Primi. It was basically traditional Roman food but half the amount and double the price. The food items were presented artfully – little blobs of fried things on the plate. I didn't notice "fried" in the description. It was all pretty bland. But I did try a Falanghina wine for the first time and that was worth the price of admission. It was almost savoury, as though it was grown with porcini mushrooms or truffles, a beautiful local uncommon white. And I had my last Italian pastry: a deconstructed cannolo that was very nice indeed. I followed this with a boatload of water and a swig of cognac, getting cocky that my migraine was behind me.
But oh, was I wrong. Around four in the morning Auntie came in banging cymbals and the migraine returned with a vengeance. I had to wake up at five anyway. Now, Massimiliano had advised me to take a taxi all the way to the airport despite the 48 euro fee but I had already bought my ticket to take the Metro which was only 7 euro. Being early morning on a sunday though, I needed a taxi to the metro, 15 euro, because nothing else was running.
Still with a migraine and no medication, no pharmacies open at 5am, I taxi'ed to Termini and then Metro'ed to Piramide. From there the little black line told me I could get to Fiumicino and I'm sure I could but the whole thing took so long and I could not find the connection to the other lines in the building, I was beside myself with pain and becoming afraid I'd miss my flight. So I had to straggle out from under the earth and grab another taxi. What did it cost me? 48 euro. "From Piramide?!" I cried. "Si". Said the grumpy driver. I assented very loudly from the back of the car, "ALLORA"! To which he muttered much Italian along the lines of "that's the standard price you stupid ass tourist."
I got to the airport forty-five minutes before my flight to Gatwick and they refused to let me on. "Oh please!" Fine, but I had to run and I couldn't check my bag. The only reason it needed to be checked was I had two bottles of limoncello hand made in Positano that I wanted to take home. But I couldn't miss my flight so I had to throw both bottles into the garbage and run RUN RUN to the gate. By the time I got on the damn plane I couldn't help but let out a few sobs I was in such pain, still having had no time to find a painkiller in the airport.
Gatwick. Arg. Why not London where I could go to the West End and catch a show? I didn't realize Gatwick was so far from it all and expensive to train. But, turns out, not a lot of shows are open on Sunday and Auntie made sure I was in no shape for a big adventure regardless. I did consider this whole day in Gatwick a complete waste. But this flight was so cheap, I couldn't say no.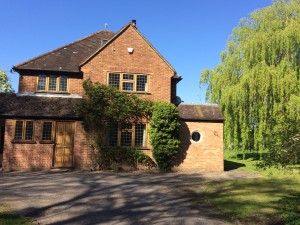 When I arrived in Gatwick two hours later, quite delirious, I was dropped off by a cab (a lovely fellow this time) to my farm house airbnb, just ten minutes from the airport, near Charlwood. I tell you all this horror story so you understand just how heavenly it was to meet Veronica. She took one look at me and said, with beautiful English crispness, "Oh dear, you've come a long way, you look exhausted, are you not well?"
Like a little pouty baby I confessed, "Migraine."
"Sit down. I have just the thing." She let me into her beautiful well appointed home all wood and fine ceramic and tapestry and good art.  She set me down into her living room and came back with a glass of water, a heap of horse pills and a freshly brewed excellent cup of coffee with cream and sugar. I don't remember what she said the pills were, I don't care, they were huge and they worked. "thank you" I said from the bottom of my heart. "thank you!" I sank into her sofa.
We had a wee chat as the drugs set in and I went upstairs and freshened up. Veronica had set out a heap of towels, and the first facecloth I'd seen since Canada and lovely organic-y mint and lemon soap. (One mustn't under estimate the kindness of offering guests good toiletry things.) I had the choice of two twin beds, set out like frilly frosted sugar loaves. I had a view of her back garden, filled with daffodils, spring grass, an immaculate green house and three spotted spaniels springing about.
I woke up refreshed! Veronica drove me into Charlwood town to Half Moon pub where I had an English ale and a big perfect lunch of roast beef, yorkshire pudding, cauliflower and cheese bake and all the fixings. I sat out on the patio, the sun shining.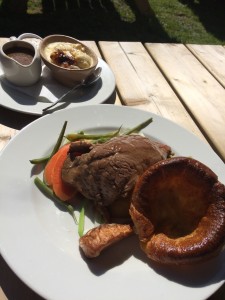 Veronica had given me a pamphlet describing the various buildings of historic interest in town. I didn't know anything about medieval villages before. Apparently, they were built in a large ring. In the centre was the common ground where everyone would bring their sheep and goats and so forth to graze. Then they'd wander out back to their homes along the perimeter at the end of the day. One of the only buildings in the middle was the church.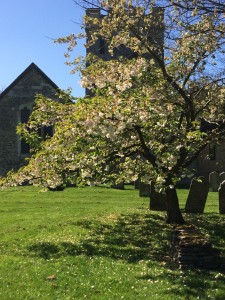 So, I went for a lovely stroll around the village. I wandered through the church and graveyard: gloriously beautiful but also a bit creepy with tipping tomb stones and cracked sarcophagus's where I peeked inside and expected to see bony toes.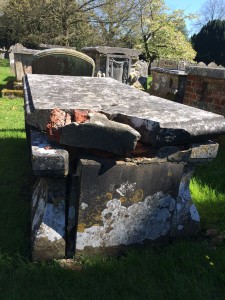 Then I walked by ancient barns, homes, schools and paddocks with their stone roofs, leaning, bulging, crumbling and still lived in! I walked along farmer's fields full of sheep and wild flowers all the way home. For a while a Colin Farrell faced man strode alongside me and then passed me, his shirt off, his muscles bulging, proud, and white as a corpse.
This wasn't the way I thought the trip would go. I thought my last night in Roma would be wonderful and I thought my day in Gatwick would be a complete wash. But look at the treasure I found in this sweet village on this sunshiny English day? Often the best moments traveling are the ones that aren't planned. As the signs on the road here say: give way.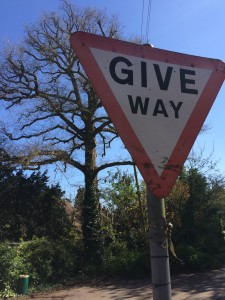 Later that evening, Veronica joined me for a light meal at another pub further away called the Revisited Fox. There I had a very nice potato and kale pie and had to try their cherry bakewell, which was fantastic. We had a wonderful conversation. The next day her husband, Roger, drove me to the airport, free of charge, after a beautiful breakfast with fresh farm eggs. I felt so cared for.
The flight home was harmless and didn't feel long. Scott greeted me with a bouquet of flowers and dinner made. I rather think it should be the opposite. I'm the one who's been traipsing around Europe while he cared for the dog and house and our BnB. Well, he shall be rewarded appropriately over time.
The wonderful thing about being away, is seeing home with new appreciation. All morning I find myself newly grateful for things I never thought to miss: sidewalks, healthy breakfast. The round soft brown openness of Asian facial features. The smell of rain. Grocery stores where the clerk does the weighing. Wide roads. Silence easily had in one's quiet spaces. A country that aspires to be as unpretentious and open as its simple flag.