Tonight I made a peach pie I could confidently serve to the jury of Chopped, the queen of England, or the ghost of my grandfather who always said "Bring on the pie" at the end of every meal. I made a peach pie that Bruce Springsteen would write a ballad about and the chorus would include high plaintive keening. I made a peach pie that made me twenty six again in a white sundress when that man crossed the street to give me a single rose for no reason other than I was twenty six and wearing a white sundress. Tonight I made a peach pie that would make Justin Trudeau and Sophie Gregoire ugly cry.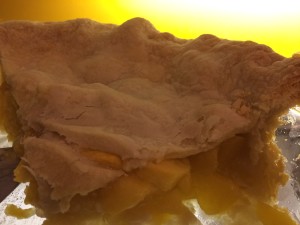 The peaches were perfectly ripe and Okanagan pure. The skin peeled back with the gentle tug of my blade and the flesh was as perfectly plump as a summer evening too hot for covers. This pie wasn't a recipe. It was whipped together with a prayer and a song after a day at the beach with my family. I remember: a toss of sugar, tapioca, almond, fresh grated ginger and a splash of decent bourbon and lime. The crust just happened to be angelically flakey and light and browned just right and how did this happen on such a sweltering day with my warm hands? I don't know. I served this pie after a roast lamb dinner with a scoop of real vanilla bean ice-cream and…
Nothing.
The kids only wanted to eat ice-cream.
One of the adults didn't finish his and other left the crust.
My husband ate all of his absentmindedly while he talked politics.
I took one bite and knew it was the best pie I'd ever made after thirty years of trying.
It's not that my guests weren't gracious, they were lovely, lovely, absolutely, so kind. But they were tired and busy with kids and had other things to think about and weren't necessarily dessert people to begin with.
Nobody wept with joy. Nobody marked the miracle. Nobody made any particular declaration of love.
It's these exact moments that I realize it is best for those born with the sign of Leo to believe in God. Leos are very generous by nature but we need to be seen and acknowledged, praised and thanked rather excessively some may say. Yes. It's true. We live for a rub behind the ears and a "good kitty!" But humans aren't always there to do that. It can be exhausting. So, times like this, Divinity can come in handy. It doesn't really matter what manifestation of God a Leo prefers, they all work. If God is the father who sees the sparrow fall, then surely God sees the abandoned pastry gutted with fruit knifed into the compost bin. If God is the creator and we are created in God's image, then surely She rejoices in a Mini-Me creating something of gastronomical beauty. If God is the more abstract Love and Creative Energy, surely God was in that pie and we ate of it and it was good. If God is my own personal Jesus, then Jesus wept and asked for another piece. He may even tell me, between mouthfuls, that this pie reminds him of a woman who broke a jar of perfumed oil over his feet and rubbed the oil into his skin and then dried his feet with her hair once. And I would tell him about the day when I was twenty six wearing a white sundress. And he would say, "Oh yeah, that guy with the rose? That was me." I would smile over the empty plate and lick some of the melted ice cream off my finger and wink, "I knew it."
I quietly thought about this as I pressed the last few crumbs onto the end of my finger and brought them up to melt on the tip of my tongue. I looked up at the big dark beauty of the red cedar above me. I gazed out at the hazy ocean with the red setting sun, smelling slightly of forest fire. I listened to the gentle clucking of our new flock of chickens settling into their secure coop. I watched my not yet two nephew open the patio door and close the patio door and open the patio door and close the patio door, taking great delight in his ability to do so with his dear little chubby toddler hand. How beautiful this slice of life. Have I stopped to taste it? Have I said thank you? Have I savoured every bite?