All things delicious for the mind body heart and soul.
Lucia's Banana Americana Chocolate Cake
(I made this up. It's nice because it isn't too sweet)
Serves: 12
Ingredients
Chocolate Cake
1 cup all-purpose flour
1 1/4 pastry flour
2 cups sugar
¾ cup cocoa
2 teaspoons baking powder
1½ teaspoons baking soda
1 teaspoon salt
1 cup milk
½ cup vegetable oil
2 eggs
2 teaspoons vanilla extract
1 cup Americano (2 shots of espresso with enough boiling water to make 1 cup)
2 bananas

whip cream 
Instructions
Preheat oven to 350º F. Prepare two 9-inch cake pans by buttering and lightly flouring.
For the cake:
Add flour, sugar, cocoa, baking powder, baking soda and salt to a large bowl or the bowl of a stand mixer. Whisk through to combine or, using your paddle attachment, stir through flour mixture until combined well.
Add milk, vegetable oil, eggs, and vanilla to flour mixture and mix together on medium speed until well combined. Reduce speed and carefully add Americano to the cake batter. Beat on high speed for about 1 minute to add air to the batter.
Distribute cake batter evenly between the two prepared cake pans. Bake for 30-35 minutes, until a toothpick or cake tester inserted in the center comes out clean.
Remove from the oven and allow to cool for about 10 minutes, remove from the pan and cool completely.
place sliced fresh banana between layers and on top, then cover the whole cake in whip and dust with cocoa.
Lucia's Pumpkin Pie with Maple Whip Cream
(warning: this pie may cause spontaneous marriage proposals. Antony Holland was the first to ask for my hand after having a piece of this pie. I also wish to credit Kathryn Aberle with the pie crust tips)
Pumpkin
I roast my own pumpkin. They're cheap and yummy and you can use the excess to make soup. Get yourself a pumpkin, clean it out and chop into chunks like you might a squash, leaving the skin on. Lightly spritz a cookie sheet with oil and bake chunks at 350 degrees for about an hour or until the pumpkin is cooked all the way through. Peel skin off and puree pumpkin in your food processor until smooth.
Pie Crust
I always make my crust in a food processor. This will make two pie crusts, so double the filling if you like. 
I cup all purpose white flour
1 1/4 cups pastry flour
1 tsp salt
3/4 cup Crisco/unsalted butter, I do half and half
6 tbsp ice water
Give the flours and salt a good whirl in the processor. Cut the cold shortening up into small cubes and toss it in and give it another whirl, just enough to resemble pea meal. (You know, because we all know what pea meal looks like.) Add the ice water and give it another whirl just enough for it to start to stick together into one lump. Don't over whirl! Dump contents of pie crust onto a sheet of parchment paper. Wrap the parchment around the dough and its crumbly bits and squeeze into a ball. Stick this ball into the fridge for half an hour to cool.
Pie Filling
1 3/4 cups of your pumpkin puree
1 small can of sweetened condensed milk 8oz (I know, I know, terrible)
2/3 cup sour cream
2 large eggs
1 tsp cinnamon
1 tsp ground ginger
1/2 tsp ground nutmeg
1/2 tsp salt
1/3 cup real maple syrup
Mix this thoroughly in your food processor.
Assembly
Preheat oven to 425 degrees.
Pull the parchment away from the chilled dough ball, lift up dough ball and flour the parchment. Split the dough in half and roll out onto the floured parchment. Then lift the parchment up and flip dough into the pie plate. Form and prick the bottom and put into the oven without the filling for 15 minutes to brown up.
Remove pie crust from oven and reduce temperature to 350 degrees. When oven has reached the right temperature, pour the pie filling into the shell and bake for another 35-40 minutes.
Maple Whip Cream
1 cup whipping cream
1 tbsp icing sugar
1 tbsp real maple syrup
Use cream directly from the fridge: the colder the better. Whip the cream alone in the food processor. When soft peaks form, add the sugar and maple syrup and whirl again until firmer peaks form. Careful not to over beat. The whip won't be as firm as usual whip cream, but it will be so delicious!
I enjoyed making this Algerian Stew, though Sousou and Haha were not entirely convinced it was Algerian! I found I only needed one can of tomatoes (enough already) and I substituted one and a half cups white grape juice for the wine.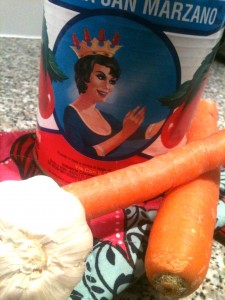 Algerian Stew
This braised lamb stew is wonderful served over a bed of steamed couscous. The couscous can be served plain or tossed with raisins, almonds and spices. Either way, it will absorb the flavorful broth from the stew.
Ingredients:
4 lamb shanks, external fat trimmed
Salt, to taste, plus 1 Tbs. salt
Freshly ground pepper, to taste
4 Tbs. extra-virgin olive oil, plus more
for serving
1 lb. yellow onions, diced
1/4 cup peeled garlic cloves
1 Tbs. finely chopped fresh ginger
2 cardamom seeds, skins removed
Pinch of saffron
1 tsp. chili flakes
1 tsp. ground cloves
1 tsp. caraway seeds
2 tsp. fennel seeds
1/2 cinnamon stick
2 Tbs. curry powder
1/2 cup blanched slivered almonds
1/2 cup golden raisins
2 cans (10 oz. each) diced plum tomatoes
1 bottle white wine
Zest and juice of 1 orange
1 lb. carrots, peeled and coarsely diced
1 large fennel bulb, trimmed and
coarsely diced
Directions:
Preheat an oven to 350°F.Generously season the lamb shanks with salt and pepper. In an ovenproof deep sauté pan or Dutch oven over high heat, warm 2 Tbs. of the olive oil until nearly smoking. Working in batches, brown the shanks, 4 to 5 minutes per side. Transfer to a platter.Add the remaining 2 Tbs. olive oil, the onions and garlic to the pan and sauté, stirring, until the onions are tender and translucent, 4 to 5 minutes. Add the ginger, cardamom, saffron, chili flakes, cloves, caraway, fennel seeds, cinnamon, curry, the 1 Tbs. salt, almonds and raisins. Sauté, stirring occasionally, about 5 minutes more. Add the tomatoes, wine, orange zest and orange juice and stir to mix well. Submerge the shanks in the liquid and bring to a simmer. Cover, transfer the pan to the oven and cook until the meat nearly falls off the bone, about 2 hours.Stir the carrots and fennel bulb into the stew, cover and bake until the vegetables are tender, about 15 minutes more. Drizzle each serving with olive oil.
Serves 4.
Celadon, Napa, California